Frisque Concordance (Georg Graewe / John Butcher / Wilbert De Joode / Mark Sanders)

Distinct Machinery [2 CDs]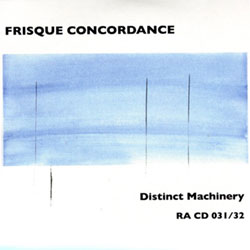 The second incarnation of Frisque Concordance, formed in 1992 by Georg Graewe & John Butcher and currently the quartet of Butcher on tenor & soprano saxophones, Graewe on piano, Wilbert de Joode on double bass and Mark Sanders on drums, in a 2-CD set, the first a superb studio set recorded in Vienna in 2017, the second a live concert at the 2018 Konfrontationen Festival in Nickelsdorf.


Sample The Album:


product information:

Personnel:


John Butcher-tenor saxophone, soprano saxophone

Georg Graewe-piano

Wilbert de Joode-double bass

Mark Sanders-drums

Click an artist name above to see in-stock items for that artist.
---


UPC: 9120036683341

Label: Random Acoustics
Catalog ID: RA 031-32CD
Squidco Product Code: 30151

Format: 2 CDs
Condition: New
Released: 2021
Country: Germany
Packaging: Cardboard Gatefold
CD1 recorded in Vienna, Austria, on March 11th, 2017, by Martin Siewert.

CD2 recorded live at Konfrontationen Festival, in Nickelsdorf, Germany, on July 18th, 2018, by Gerald Pally and Jens Jamin.


Descriptions, Reviews, &c.
"The group Frisque Concordance began back in October 1992 when the quartet-comprising UK saxophonist John Butcher and the Germans pianist Georg Graewe, double bassist Hans Schneider and drummer Martin Blume-was recorded live at the Ruhr Jazz Festival in Bochum, Germany. The results were released in 1993 as Spellings, the first album on Graewe's Random Acoustics label.
Although Butcher and Graewe recorded one album as a duo, Light's View (Nuscope, 1999), Spellings represented the entire Frisque Concordance story until the release of the album Distinct Machinery in 2021, twenty-eight years later. While bearing the same name as the 1992 group, the personnel had altered somewhat, with Butcher and Graewe remaining but now being joined by Dutch bassist Wilbert de Joode and UK drummer Mark Sanders, both of whom had past experience playing with the saxophonist and pianist as well as with each other. The fact that Butcher and Graewe have been the heart of the group in both incarnations emphasises that they are the primary focus of its music, with one, other or both playing throughout.
Distinct Machinery is a double album with one disc that was studio-recorded in Vienna in March 2017 and another recorded live during Konfrontationen in Nickelsdorf in July 2018, a total of ninety-six minutes of music. Despite sixteen months and about forty miles between the recordings on the two discs, the studio and live recordings are compatible and work well together. This is best illustrated by the tracks "Hot and Cold" and "Cold and Hot" on the studio and live recordings respectively; played back-to-back, the mood and sound of the two are remarkably similar, with none of the four players dominating but all of them contributing to the ebb and flow of these balanced group improvisations.
In other respects, there are significant differences between the studio and live recordings. The studio-recorded disc features ten tracks, six of which play for under four minutes, whereas, apart from "Cold and Hot," the live recording comprises three tracks, "Desmodromics I-III," which total forty-five minutes and represent the group's set, complete with solos as well as extended ensemble passages in which all four interact and stretch out together. Taken together, the entire album reaffirms Frisque Concordance as a well-integrated, empathetic improvising ensemble. On the basis of the music here, the most appropriate reaction is to welcome the group back and urge them not to leave it another twenty-eight years until their next album."-John Eyles, All About Jazz
"It happened to be my birthday, that day in October 1992 when I had the great fortune of listening to the first incarnation of Frisque Concordance at the Ruhr Jazz Festival in Bochum (Germany), ingeniously curated by Martin Blume, who also played the drums in this quartet along with Hans Schneider on bass, offering his wonders . . . Here, on Distinct Machinery, Georg Graewe and John Butcher, the Concordance's core, team up with Wilbert de Joode and Mark Sanders, both another two constants in the wider Graewe universe for quite some time. Structurally the four-some and its two realizations is to be understood as a pars-pro-toto for how exactly this universe operates and evolves. Schneider was one of the very early members of this poly-centric bundle, dating back to the legendary FMP releases from 1976 and 1978 by Graewe's first quintet, a group the pianist had formed only a few days before his 18th birthday. Butcher, a collaborator for 30 years now, is (along with Frank Gratkowski) the most congenial horn counterpart to Graewe's fuid ways of sublime bridge-building. This is just a small sample of the ways in which Graewe develops his work: long-standing relationships perform expeditions into uncharted territories and then sometimes do it again, years later, offering Proustian moments of recognition plus, always, things never heard before. Continuities and disruption, known and unknown, frisque concordance and contenance angloise, as Martin Le Franc described the 15th century new distinctive style of Dunstable-English music. Distinct Machinery is just that. The combination of a studio and a live set very much distills all these qualities into diamonds, nuggets, and land-slides of sound ever unfolding. You buy one and you get two, but these two give you all. And it is not like these two are easily peg-holed sides of one coin. Listen to the drive and the dynamics of 'Hot and cold' in its two iterations here, studio- and live-setting, and you immediately realize this is not about simple dichotomies. There is a distinct romanticism in the abstract, there are planes of Ayleresk layers in the physical feel of Butcher's sometimes almost silent sound, there are distinct single-notes in Graewe's waves of still energy. There are the endless great plains of Sanders' roaring thunder filled with the warm hues of metallic star-breath-cymbal colors, there are de Joode's interstellar pulse-like sheets of legato, grounding and multi-mirroring it all..." --Markus Müller, Berlin November 2020
Get additional information at All About Jazz

Artist Biographies

Track Listing:


CD1



1. Inklings 3:58

2. Hot And Cold 7:19

3. Torsion 3:00

4. Metes And Bounds 2:47

5. Drunken Thread 10:20

6. Fissures 2:11

7. Flank Angle 1:51

8. Entanglements 9:06

9. Flow Field 5:17

10. Refraction 2:22

CD2



1. Desmodromics I 10:40

2. Desmodromics II 13:42

3. Desmodromics III 20:37

4. Cod And Hot 2:26

Related Categories of Interest:


Improvised Music
Free Improvisation
Jazz
European Improvisation, Composition and Experimental Forms
London & UK Improv & Related Scenes
Quartet Recordings
John Butcher
Staff Picks & Recommended Items

Search for other titles on the label:
Random Acoustics.
---

Recommended & Related Releases: