IST (Davies / Fell / Wastell) + John Butcher / Phil Durrant

A More Attractive Way [5 CD BOX SET + 20 page booklet]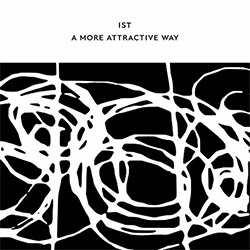 A comprehensive album of live performances from IST (Rhodri Davies: harp, preparations; Simon H. Fell: double bass, preparations; Mark Wastell: violoncello, preparations) between 1996 and 2000, beginning with their concert at Club Orange in London and including concerts in London, Billericay, Norwich and Cambridge, with a 20 page booklet of photos and text from the band & collaborators.


product information:



Label: Confront
Catalog ID: core 21
Squidco Product Code: 30008

Format: 5 CDs
Condition: New
Released: 2021
Country: UK
Packaging: Box Set - 5 CDs + Booklet
CD 1 recorded at Club Orange, Dolly FossettŐs, in Kentish Town, London, UK, on April 23rd, 1996, by Mark Wastell.

CD 2 recorded at Club Unire, Billericay Arts Association, The Fold, Billericay, UK, on May 23rd, 1997, by Mark Wastell.

CD 3 recorded at Red Rose Theatre, in Finsbury Park, London, UK, on November 27th, 1997, by Mark Wastell.

CD 4 recorded at Red Rose Theatre, in Finsbury Park, London, UK, on February 17th, 1998, by Mark Wastell.

CD 5, tracks 1-7 recorded at Other Sounds, King Of Hearts, in Norwich, UK, on November 24th, 1998, by Graham Halliwell.

CD 5, tracks 8 and recorded at Trinity College, Cambridge, UK, on May 30th, 2000, by CCCP.


---
Personnel:


Rhodri Davies-harp

Simon H. Fell-double bass

Mark Wastell-violoncello

John Butcher-tenor saxophone, soprano saxophone

Phil Durrant-violin

Click an artist name above to see in-stock items for that artist.

Sample The Album:


Descriptions, Reviews, &c.
"When IST's first release, Anagrams to Avoid came out (recorded in 1995 and released in 1997), it caught listeners by surprise. It's not like those who had been listening to Simon H. Fell weren't used to the bassist's wide-ranging musical interests, from his compositional frameworks for improvising ensembles like Compilation I and II and Music for 10(0) to found-sound tape constructions like Nightfall Two (Standards I) to solo outings to his coruscating duos with Charles Wharf and the Hession/Wilkinson/Fell trio to the trio Badland, where pieces by Ornette and Ellington sidled up to original free-bop excursions. But here was a new kind of group, an acoustic string trio of bass, cello and harp, with Mark Wastell and Rhodri Davies, two players most had never heard of before. But what jumped out immediately was their timbral palette as well as the way the three were beginning to rethink strategies toward group improvisation.
Improvisers were certainly fully engaged in efforts to subvert the touchstones of guitar attack, sustain and feedback, reed and brass multi-phonics and the percussive colorations of small instruments within ensemble settings. With their instrumentation, IST sidestepped that entirely. The three stretched the elemental sonics of their respective instruments, building on the intrinsic resonances, harmonics and layered overtones evoked from the strings while adding timbral orchestrations of multitudes of extensions and preparations. Working within that soundscape, they began to zero in on a micro-detailed consideration toward interaction. Over the course of five CDs, this set documents that exploration, from their first live performance in London in 1996 through a 2000 performance in Cambridge during a particularly active period for the group.
The first disc, capturing the group's public debut at an upstairs room in a London Victorian pub, documents the group working their way through an extended 35-minute improvisation followed by two shorter outings. Things start out with a crack and flurry of bustling activity with rapid back-and-forth amongst all three players. From there, the trio navigates between vigorous intensity and areas where density is dialed back and the vivid nuances of the instruments emerge, from resonant bass through shuddering overtones, clipped and muted pizzicato, scratched textures, shimmering harp shadings and rustling skitters. The two 10-plus minute pieces that follow dwell more in open densities with some particularly quiet dynamics in the second piece, underscoring the group's embrace of striated detail which they would continue to gravitate toward. Disc two kicks in a year later, around the same time as the gig that resulted in IST's second release, Consequences (Of Time And Place) as well as the release of Anagrams. The two pieces here settle more quickly into the fields explored on the shorter pieces from a year before, extending them into longer excursions. One can hear a more assured group sound, honed through countless practice sessions and more performances. On these improvisations, even as velocity mounts, there is a more measured activity level at play and the layers work more transparently.
Discs three and four, from a bit later in 1997 and early 98, present music from a series of IST + performances where the trio opened, a guest played a solo, and then the four would play together. It's worth noting that trio improvisations from each of the dates were included in excerpted form on Ghost Notes and are presented in their entirety here for the first time. First up is a collaboration with John Butcher. The two IST trio improvisations reveal continued development of group strategies, homing in on a fully integrated group sound with extended sections of atomic interaction. Even during more vigorous sections, the three utilize a sparing approach, parsed with pools of quiet and heightened attention to timbral detail. By this time, Butcher had been playing with Wastell and Davies as part of Chris Burn's Ensemble and immediately syncs into the collective tactics. One does notice how much reed sonorities jump out against the acoustic string reverberations, but Butcher is a consummate listener and effectively balances his playing within the trio. Over the course of three improvisations, the four musicians increasingly gel, with quavering reed multi-phonics and keypad pops melding with the variegated string stratifications.
By February 1998, when the meeting with violinist Phil Durrant captured on disc four took place, Wastell and Davies had recorded the first release by Assumed Possibilities with Durrant and Burn and had worked together with him on the session released as Strings with Evan Parker. This string quartet was a natural extension of those sessions. The 23-minute IST trio improvisation that opens the set is a particular highlight, with the group zeroing in with steadfast, reciprocal focus throughout. The piece is imbued with nuanced playing, particularly the closing section of brittle, metallic interplay. The four quartet pieces are compact studies ranging from 5 to 10 minutes. Each piece carves out a particular sonic area with varying levels of density, pace, and articulation. With the addition of another string player, the quartet tends toward a more open sound, with tendril-like individual parts in constantly shifting, angular layers, forking off and then twining back in.
Marking the end of 1998, a particularly active year for the group, IST embarked on an Arts Council-funded tour. During the course of the tour, they presented improvisations alongside compositions written by and for the group, something they hadn't done before and wouldn't do again. The three headed into the studio before the tour to record a handful of these compositions which appear on Ghost Notes. Disc 5 includes the final performance of the tour in Norwich, with a program of two improvisations interspersed amongst compositions by Davies, Wastell, Durrant, Guto Pryderi Puw and Karlheinz Stockhausen. In his comments between pieces captured on the recording, Fell does note that the differentiation between improvisation and composition "is sometimes tenuous" and in a blind listen, the distinctions are mostly blurred.
However, a few things jump out in the 40-minute set. Firstly, the flow of the set is somewhat different than that of other live sets documented in this box and on other live recordings of the group, with seven pieces ranging from 3 to 8 minutes long rather than their usual set including an extended improvisation along with some shorter outings. Secondly, in the improvisations as well as a few of the compositions, a delineation of the three instruments is far more apparent. Listen to the opening improvisation and the resonance of Fell's dark, sharply plucked strings, Wastell's move between percussive pizzicato and abraded arco, and the spiky attack and shimmering sustain of Davies' harp, all in clear focus in contrast to the more amalgamated collective sound of much of their playing. Their reading of Stockhausen's "Intensität" from his text pieces Aus den sieben Tagen builds with layers of arco accentuating the elemental qualities of resonance from each of the instruments. The pointillism of Guto Pryderi Puw's "X-IST" is another case, with each voice is clearly articulated across the countervailing lines. However the trio's approach toward a more coalesced sound is still in full evidence like on Durrant's composition "Sowari for IST," which centers on muted textures and timbres of the instruments shot through with high-pitched overtone resonances. It is also great to hear another version of Wastell's "Ritmico" dedicated to John Stevens, which appears on Ghost Notes, with its percussive flecks restricted to the wooden part of each of the instruments with no use of string permitted.
After their appearance as part of Derek Bailey's Company at a series of concerts in Marseille, IST didn't play together during much of 1999 while Wastell was living outside of the UK. Upon his return in the spring of 2000, the trio began their last run of active playing. The box closes with a set from Cambridge in May 2000, comprised of a 20-minute improvisation along with a short 5-minute piece. By this point, The Sealed Knot, with Wastell, Davies and Burkhard Beins, had formed, Davies had begun working in what would become an ongoing duo with John Butcher, and the strategies of minutely considered interactions, which came to be shorthanded as the reductionist scene, were beginning to germinate. The extended improvisation recalls of some of the frameworks employed in the compositional pieces melded with their ongoing development of a group sensibility. Here, the trio fuses laminal textures, gossamer overtones, miniscule creaks and pops, percussive attack and resonant sustain, areas of brisk activity and pools of considered composure with rapt listening and unremitting deliberation. The 6-minute concluding piece is a study in interactions of thwacks, plucks, hammered vigor, the resultant ringing decay, and craggy, abraded arco.
While the rest of 2000 would remain relatively busy, group activities slowed somewhat after that, with only a few gigs, albeit high profile ones in international settings, each year between 2001 and 2003. Davies and Wastell were becoming far more active with other projects and Fell had launched his more compositionally lead group SFQ and begun plans to move to France. The group played as part of the Freedom of the City Festival in 2003 and then performed their final, although unbeknown at the time, concert together as part of Confront's 20th anniversary celebrations in 2016. The trio were planning a series of 25th anniversary shows at the time of Fell's death. This box, along with the release last year of At the Club Room (their second ever gig) and two archival recordings on Davies' Archif series more than doubles the number of IST releases previously available. Beyond simply serving to fill discographic holes in the previously scant documentation of the group, this box provides an invaluable opportunity to delve into the development of this vital partnership. The fact that each disc stands on its own, deserving deep and repeated listens, is a testament to the music that Fell, Wastell, and Davies created."-Michael Rosenstein

Artist Biographies

Track Listing:


CD1



1. Vivo Study I 34:05

2. Vivo Study II 11:36

3. Vivo Study III 10:23

CD2



1. Restrictive Parallels I 18:11

2. Restrictive Parallels II 17:23

CD3



1. Calm Magnanimity I 17:08

2. Calm Magnanimity II 7:08

3. Trenchant Observations I 14:56

4. Trenchant Observations II 11:13

5. Trenchant Observations III 10:49

CD4



1. Orthographic Dissonance I 23:07

2. Orthographic Dissonance II 4:25

3. Aesthetic Triage I 9:35

4. Aesthetic Triage II 8:23

5. Aesthetic Triage III 4:47

6. Aesthetic Triage IV 5:21

CD5



1. Self-reflexive I 6:59

2. Wstrws (Rhodri Davies) 5:35

3. Ritmico (Mark Wastell) 3:00

4. Self-reflexive II 5:40

5. Sowari for IST (Phil Durrant) 6:26

6. Intensitat (Karlheinz Stockhausen) 5:06

7. X-IST (Guto Pryderi Puw) 8:06

8. Generating Contexts I 20:33

9. Generating Contexts II 5:56

Related Categories of Interest:


Box Sets
Improvised Music
Free Improvisation
London & UK Improv & Related Scenes
Quintet Recordings
John Butcher
Staff Picks & Recommended Items

Search for other titles on the label:
Confront.
---

Recommended & Related Releases: