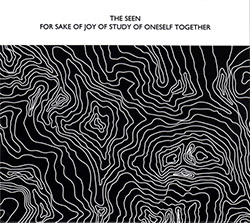 Inspired by a work by John Stevens from 1991, Mark Wastell developed this work merging narration and improvisation by transcribing the text from Steven's performance, preseanted here by an electroacoustic ensemble including Phil Durrant, Dominic Lash, Bertrand Denzler, Jennifer Allum &c, yielding an enveloping and fascinatingly mysterious piece presented in two versions.


Sample The Album:


product information:

Descriptions, Reviews, &c.
"The origins of this piece date back to the 1st December 1991. I'd attended an all day concert at the Red Rose Theatre in Finsbury Park, London - a benefit gig for Terry Day - featuring dozens of musicians in various groupings throughout the afternoon and evening. One of those musicians was John Stevens. This was my first exposure to John and his music and the beginning of a fascination still very much part of my everyday. John performed three times that afternoon; with his Spontaneous Music Ensemble - comprising Nigel Coombes and Roger Smith later joined by Maggie Nicols and Phil Minton, in a trio with Larry Stabbins and Paul Rogers and in an unaccompanied role, reciting a text composed by himself. He gave no introduction or back story to the piece. It just existed as is. Gone in a few fleeting moments. A couple of years later I secured an audience recording of the concert made by Andy Isham. All of John's activity that day was on the recording and through repeated listening over the following two decades, I became very attached to the spoken word piece. Earlier this year I finally got around to transcribing the text, hoping that one day I'd be able to include it in a project. This little dream was enabled by Trestle Records and their generous offer to organise and record a session. Finally John's inspirational words can be heard again and influence others the way they did me, as a young man, twenty six years ago. (Mark Wastell, December 2017)
The One Day Band sessions are an ongoing series of improvisations hosted by Trestle Records. Musicians, sometimes meeting for the first time, are invited to collaborate on a record made in a single day. The idea is to create a supportive studio environment to facilitate the production of new spontaneous music."-Confront Recordings
"In June 2003, Mark Wastell congregated a group of musicians at the LMC Studios in Brixton, London for an open-form improvisation and recording session. The group included London-based associates Rhodri Davies, Benedict Drew, Graham Halliwell, Paul Hood, Mattin, and Nishide Takehiro along with visitors Tetuzi Akiyama, Michael Duch, Annette Krebs, and Andrea Neumann with instrumentation split between acoustic instruments, various modes of electronics and amplification, and laptops. Wastell recalls that "I hadn't been anticipating putting a larger group together. It was just luck that [during] that particular few days, there were a number of international musician friends visiting London. I saw the opportunity and jumped at the chance to organize a recording ... The same day, we played a concert in the evening, at a squat that Mattin had found in East London." What began as a chance encounter has, over the last 16 years, developed into an ongoing project Wastell has dubbed The Seen.
With a constantly revolving/evolving ensemble, both in membership and in instrumentation, Wastell has fostered a setting for a network of musicians, some of whom he has been working with for decades and others who he brings in for a specific performance. Over the course of two dozen concerts involving, to date, a pool of 80 musicians, he revels in changing things up for every meeting. One time, the group can be comprised of 5 double bass players and 5 laptop players, another it can be a string quintet along with two musicians playing analog electronics. Zithers, bowed banjo, and accordion sidle up against sax, trumpet, and violin, tam tam and harmonium, "resonators," amplified objects, and synths. Yet throughout, a clear collective sensibility prevails. David Toop, a frequent participant, puts the impetus for the strategy this way. "Maybe it lies in the desire to create a group that embodies the mystery and sureness of purpose that is part of the allure of groups that fascinate us (and Mark) ... Although the line-ups and instrumentation are always different there is a continuity and consistency which is almost suspicious, particularly since in my experience nothing is ever discussed, either before or after, and if Mark has any intentions he keeps them well hidden."
The Seen is a clear extension of Wastell's fascination with collective collaboration which he began in the early '90s along with an evolving community of musicians that he's worked with since then. In a PoD roundtable (Issue 28; April 2010), Wastell talked about this collective strategy. "I like the continuing challenge in the development of a group music, finding the identity and molding over time as your material changes and that of your colleagues." Working with that ever-broadening circle of musicians and building a shared collective language laid the initial foundation of the larger ensemble. He'd circled in on approaches toward improvisation centered on collective microscopic listening working with the trio IST, with Rhodri Davies and Simon Fell, as a member of pianist Chris Burn's Ensemble, and in collective groups like Assumed Possibilities (with Davies, Burn, and Phil Durrant), The Sealed Knot (with Davies and Burkhard Beins), Broken Consort (with Matt Davis and Davies), Open Trio (with Davis and Durrant), and a diverse collection of duo partnerships.
In the early 2000s, The Sealed Knot did a tour which they billed as "New London Silence meets Berlin Reductionism," and that appellation stuck. In his article "The Other Side of Silence" in the October 2005 issue of The Wire, Clive Bell talked about "New London Silence" with Wastell, Phil Durrant, and a number of others. In that article, Durrant weighed in that "For me the big thing is not a reduction in material and volume, it's a reduction in pace. The whole pulse slows down dramatically." By the time that The Seen first came together, those strategies had been absorbed and internalized and, as Durrant recently elucidated, "the style is still layered rather than 'moment to moment' improvised music but not reduced in the way the scene was 2003-2006ish. In many ways the 'compositional element' was always the line-ups." Paul Margree calls it out succinctly in his essay for the boxed set The Seen Archive: Volumes I-V, aptly stating that the music of The Seen is "Not necessarily 'quiet' music ..."
That idea of group music along with a dedication to self-determination is central to The Seen and the way that Wastell operates. He has, for the most part, arranged the gigs himself, booking venues, handling promotion. But most importantly, he chooses instrumentation and assembles the participants. And as one digs into recordings by the group, it is that attention to instrumentation that is fundamental to the sound of the group, even in its constant morphing. Wastell explains that "Most times, the start point is the instrumentation. I construct with the overall sound and textures foremost. Luckily, I'm able to draw from a staggering diverse group of musicians. London (the primary source) is blessed that way. I'll start with the concept, the 'sound,' then arrange the instrumentation, then consider who best to fill the chair. On the odd occasion, a particular musician may be visiting and I'll build a group around their potential. But that is a rarer example ... It's down to the ever shifting nature of the group. Yes, availability plays a large part. But mostly it's to do with the current project and how I see people fitting into the scheme."
It is the changeable aspect of the group that attracts its members. In varying the framework of ensemble size, mixture of acoustic and electronic instrumentation, and various pairings and contrasts of instruments and musicians, Wastell sets up active playing environments that both challenge the members to consider how to engage, while encouraging them to bear in mind the overall group sound. He acts more as instigator than leader, providing the simplest of instructions such as a sub-grouping to begin the piece or what order musicians are to enter and places full trust in the ensemble from there. There are never rehearsals beforehand and even during a run of 10 performances over the course of 2018, specific lineups are never repeated. That mutable balance of musicians with deep experience playing with each other and those introduced at the last minute is both part of the allure and part of the success of the group.
[...]
"-Michael Rosenstein, Point of Departure

Artist Biographies

Track Listing:


1. For Sake Of Joy Of Study Of Oneself Together : Version I 26:45

2. For Sake Of Joy Of Study Of Oneself Together : Version II 29:36

Related Categories of Interest:


Improvised Music
Free Improvisation
Electro-Acoustic
Electro-Acoustic Improv
Spoken Word
London & UK Improv & Related Scenes
European Improvisation, Composition and Experimental Forms
Staff Picks & Recommended Items

Search for other titles on the label:
Confront.
---

Recommended & Related Releases: