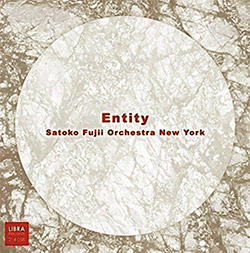 Satoko Fujii leads her 13-piece big band through 5 thrilling and insightful compositions with a who's-who of NY improvisation: Nels Cline (guitar), Ches Smith (drums), Joe Fiedler & Curt Hasselbring (drums), Oscar Noriega, Ellery Eskelin, Briggan Krauss, Andy Laster & Tony Malaby (sax), Herb Robertson, Natsuki Tamura & Dave Ballou (trumpet) & bassist Stomu Takeishi; wow!

Price:

$16.95






In Stock
Quantity in Basket: None

Log In to use our Wish List
Shipping Weight: 2.00 units


product information:


Sample The Album:


Descriptions, Reviews, &c.
"The Satoko Fujii Orchestra New York, led by one of this era's greatest big band composers, sounds as fresh and exciting on their eleventh recording, Entity, as they did on their first in 1997. Working with a 13-piece big band that includes a remarkable nine founding members, Fujii continues to inspire her orchestra-and be inspired by them. This is an album that revels in the soloing prowess of its individual members while showcasing the ever-inventive composing and arranging of its founder and leader.
"Since I have been playing with this band for such a long time now, I know how they play," Fujii says. "And when I compose, I actually hear their sound. So, soloists actually support my writing. For me composing for this band is more like collaboration-when I compose I am already working with the band, even if I am in Tokyo and they are in New York. Is this strange to say?"
Strange or not, the music is unfailingly exciting, with an urgency and brio born of the mutual admiration between performers and composer. "The music cannot be boring with these musicians," Fujii says. "This band inspires new ideas in me and I always feel free to try something different because I know they will respond and make it sound great." Fujii also found inspiration for her compositions from another source. "I am not a scholar and don't have a deep knowledge of Buddhism," Fujii says, "but I was reading about some of Buddha's ideas online and learned that he had the idea of elementary particles centuries before physicists discovered them. The concept inspired me to write the pieces on this album."
Throughout the album you can hear the chemistry between composer and orchestra. Fujii finds all kinds of ways to frame soloists and provide full ensemble themes that set a mood, often several different moods within the same composition. "Entity" opens with an attention-grabbing blast of energy that launches guitarist Nels Cline and drummer Ches Smith into a bounding and weaving duet. As the band sets up a regular two beat pattern, guitarist and drummer dip and curl in off-kilter tandem around the pulse, beautifully highlighting their subtle sense of rhythm and texture.
Tidal surges of massed horns on "Flashback" launch trombonist Joe Fiedler into a boldly phrased solo that gives way to a searching, introspective unaccompanied solo from Oscar Noriega. Trumpeter Herb Robertson's virtuoso mute technique highlights his outing with the band's blue-chip rhythm section. Fujii's majestic "Gounkaiku" is a feature for trumpeter Dave Ballou's elegant melodicism, while "Elemental Particle" lets Ellery Eskelin cut loose with a fire-breathing solo. "Everlasting," a heart-wrenching ballad, pairs soloists in duets, first trumpeter Natsuki Tamura and trombonist Curtis Hassellbring, then alto saxophonist Briggan Krauss and baritone saxophonist Andy Laster.
On occasion throughout the album, Fujii creates spontaneous arrangements to fit the moment. "While we are playing," Fujii explains, "I can hold up Sign 1, which means play a long tone with any note, or Sign 2, which means play a glissando. There are others, too. It may be a little bit like Butch Morris, but my signs are for predetermined materials." This can be heard in the opening moments of "Gounkaiku," when the band plays a series of long tones that glimmer like a necklace of jeweled sounds or toward the end of "Flashback" when Fujii uses the long tones to create tension before the band plays the rollicking closing theme. It's a part of the ongoing dialog between the composer and a seasoned orchestra fully attuned to her creativity.
Critics and fans alike hail pianist and composer Satoko Fujii as one of the most original voices in jazz today. She's "a virtuoso piano improviser, an original composer and a bandleader who gets the best collaborators to deliver," says John Fordham in The Guardian. In concert and on more than 80 albums as a leader or co-leader, she synthesizes jazz, contemporary classical, avant-rock, and folk musics into an innovative style instantly recognizable as hers alone. A prolific band leader and recording artist, she celebrated her 60th birthday in 2018 by releasing one album a month from bands old and new, from solo to large ensemble. Franz A. Matzner in All About Jazz likened the twelve albums to "an ecosystem of independently thriving organisms linked by the shared soil of Fujii's artistic heritage and shaped by the forces of her creativity."
Over the years, Fujii has led some of the most consistently creative ensembles in modern improvised music, including her trio with bassist Mark Dresser and drummer Jim Black and an electrifying avant-rock quartet featuring drummer Tatsuya Yoshida of The Ruins. Her ongoing duet project with husband Natsuki Tamura released their sixth recording, Kisaragi, in 2017. "The duo's commitment to producing new sounds based on fresh ideas is second only to their musicianship," says Karl Ackermann in All About Jazz. Aspiration, a CD by an ad hoc quartet featuring Wadada Leo Smith, Tamura, and Ikue Mori, was released in 2017 to wide acclaim. "Four musicians who regularly aspire for greater heights with each venture reach the summit together on Aspiration," writes S. Victor Aaron in Something Else.
As the leader of no less than five orchestras in the U.S., Germany, and Japan (two of which, Berlin and Tokyo, released new CDs in 2018), Fujii has also established herself as one of the world's leading composers for large jazz ensembles, leading Cadence magazine to call her, "the Ellington of free jazz."-Libra

Artist Biographies

Track Listing:


1. Entity 12:43

2. Flashback 13:16

3. Gounkaiku 16:17

4. Elementary Particle 10:08

5. Everlasting 11:12

Related Categories of Interest:


Improvised Music
Jazz
Free Improvisation
Asian Improvisation & Jazz
NY Downtown & Metropolitan Jazz/Improv
Large Ensembles
Satoko Fujii & Natsuki Tamura's Libra Label
Staff Picks & Recommended Items

Search for other titles on the label:
Libra.
---

Recommended & Related Releases: