Inoue, Satoko

Presents Jo Kondo's New Works For Piano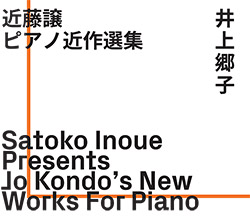 The second album of piano works from Japanese composer Jo Kondo performed by pianist Satoko Inoue--a noted interpreter of solo works by Feldman, Ferrari, and Cage--here presenting all of Kondo's works for solo piano written from 2001 to 2012, alongside two early works from 1975, exploring a wealth of harmonic, rhythmic, and conceptual ideas from a diversity of projects.


Sample The Album:


product information:

Personnel:


Jo Kondo-composer

Satoko Inoue-piano

Click an artist name above to see in-stock items for that artist.
---


UPC: 752156101123

Label: ezz-thetics by Hat Hut Records Ltd
Catalog ID: ezz-thetics 1011
Squidco Product Code: 28281

Format: CD
Condition: New
Released: 2019
Country: Switzerland
Packaging: Cardboard Gatefold
Recorded at Grosser Sendesaal at WDR, in Frankfurt Germany, on December 25th to 29th, 2012, by Christoph Gronarz.


Descriptions, Reviews, &c.
"This CD, the second album of my piano works played by Satoko Inoue, presents all the works for solo piano written from 2001 to 2012, alongside two early works from 1975. Although I cannot help but recognize some apparent differences between my early and recent works particularly in texture and sonority, I am convinced that my basic idea and methodology of composition has remained unchanged since the 1970's.
"Gamut" (2012) was written expressly for Satoko Inoue on the occasion of this recording. This miniature piece is a piano arrangement (or 'intavolatura') of the fourth and last song in the song cycle I wrote in 2006, "Four Short Poems" of Louis Zukofsky for mezzo-soprano and four instruments (flute, viola, electric guitar and percussion). The text of the original song, Zukofsky's 'Gamut', is in itself a fascinating sound play of words full of musical charm, typical of this American poet.
"Ritornello" (2005) is, as the title suggests, characterized by the recurrence of the same (or almost the same) phrases. Its relatively thick texture, and structure consisting of juxtapositions of short sections of sharply contrasting musical character, are common features in my 'recent' music (not just in my piano pieces but my works in general).
"In Nomine (Berceuse à la Lesniewski)" (2006) was written, as my response to Ensemble Recherche's request to contribute to their 'In Nomine Project' which sought to revivify the old English tradition of writing virtuoso instrumental music based on the plain chant melody, Gloria tibi Trinitas. My 'In nomine' turned out to be a quiet, anti-virtuoso berceuse, whose harmonic texture derives from chordal colorings of every note in the cantus firms. The subtitle refers to the Polish logician Stanislaw Lesniewski, who initiated 'mereology', a theory about relationships between the whole and the parts. I believe that any musical structure (or, any 'piece' of music) that I create could be taken as a good exemplification of his theory.
"Metaphonesis" (2001) is, in the same way as the other pieces recorded on this CD, a composition based on a single melodic line, even if it sounds more 'harmonic' rather than monodic. The title of this work is a neologism, made from Greek, to express 'making a sound a sound about the sound', and at the same time the obscurity of its very meaning (or, putting it in a more positive way, an obscurity that allows room for interpretative manoeuvre). However, looking back and trying to recall what I intended to mean by the word some forty years ago, I only find everything dimmed by the grey mist of time. In any event, the determining reason for my choosing the word 'metaphonesis' as the title of this piano piece is that I found the sound of this word beautiful.
"Trochaic Thought" (2009), a short rhythmic study, rhapsodic in nature. The basic rhythmic material of the work derives, as the title suggests, from trochee, a metrical pattern in classical rhetoric, i.e., a note of longer value is followed by a shorter one.
"Sight Rhythmics" (1975) is included again on this CD, although it was recorded previously on the first album of my piano works. I decided to include it again as it creates a useful context for the next work on this CD, "The Shape Follow's Its Shadow", and the two pieces together give the listener a clearer idea of my early style, which contrasts in some aspects to my recent music. "Sight Rhythmics" was originally written for five instruments: violin, steel drum, banjo, electric piano and tuba. The work consists of six short movements that sound very much alike. These movements seem almost identical, but careful listening will soon reveal their differences. I call this device pseudo-repetition, and it could be placed somewhere between literal repetition and variation. Literal repetition is in itself static, heading nowhere. Pseudo-repetition is almost as static as literal repetition, but at the same time becomes a vehicle for hidden change and motion. Perhaps the best term to describe this fluid situation, contradictory though they may seem, are the words 'dynamic stasis'. We could liken the listener's experience of dynamic stasis to the way we experience our everyday life. Each day seems very similar to the previous one (daily routine), but today is never exactly the same as yesterday.
"The Shape Follows Its Shadow" (1975/2012) recorded here as a solo piano version of the work that I wrote for two pianos in 1975. The entire piece is nothing but a continuous single melody, or melody-like line, in an extremely slow tempo, so slow that each sound almost stands still. After each short attack of a thicker chord, some note (or notes) in the chord remain(s) unstopped and keep(s) sounding thinly as if it were a residue or shadow of the chord. It is this shadow sound that shapes the static, abstract melody-like line
"Tennyson Songbook" (2011) is another piano arrangement of vocal music. This time, the original work is "Three Songs Tennyson Sung for soprano and seven instruments" (2010), a song cycle set to the poems in Alfred Load Tennyson's "The Princess". The piano version consists of four short movements: Introduction, I.(Lullaby), II., and III.(Idyll), each corresponding respectively to the piece in the original song cycle: Avant-propos, I. 'Sweet and low' (Lullaby), II. 'Ask me no more', and III. 'The splendour falls' (Idyll)."-Jo Kondo, April 2019

Artist Biographies

Track Listing:


1. Gamut 1:05

2. Ritornello 7:59

3. In Nomine (Berceuse a la Lesniewski) 3:29

4. Metaphonesis 9:50

5. Trochaic Thought 5:46

6. Sight Rhythmics 12:52

7. The Shape Follows Its Shadow 10:30

8. Tennyson Songbook (Four Parts) 12:32

Related Categories of Interest:


Hat Art
Improvised Music
Jazz
Free Improvisation
European Improvisation, Composition and Experimental Forms
Saxophone & Drummer / Percussionist Duos
Duo Recordings
Hat Hut Masters Sale

Search for other titles on the label:
ezz-thetics by Hat Hut Records Ltd.
---

Recommended & Related Releases: