Foussat, Jean-Marc / Les Autres

Alternative Oblique [4 CD Box Set]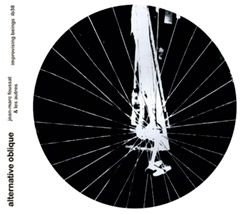 A 4 CD anthology released on Jean-Marc Foussat's 60th birthday, presenting an amazing diversity of material from 40 years of recording, including early experiments, the development of his unique language, improv with Jean-Luc Cappozzo, Matthias Mahler, Joe McPhee, Paul Lovens, &c.


Sample The Album:


product information:

Personnel:


Jean-Marc Foussat-guitar, synthesizer, tapes, electronics

Pascal Bouscaillou-bass guitar

Marc Bohy-drums

Jean-Francois Ballevre-piano

Antoine Potier-flute, percussion, soprano saxophone, voice

Helene Sage-flute, soprano saxophone, alto saxophone

Alain Hako-percussion

Jean-Michel Laugier-soprano saxophone, alto saxophone, bass, voice

Jacques Sordoillet-tenor saxophone

Pascal Barres-tenor saxophone, electric piano, voice, percussion

Jerome Bourdellon-bass clarinet, flute, tambourine, tuba

Marc Dufourd-electric guitar, keyboards, percussion

Lea Dufourd-lead vocals

Damien Dufourd-trumpet

Antenna-voice

Matthias Mahler-trombone

Jean-Luc Cappozzo-trumpet

Nicolas Souchal-trumpet

Dirar Kalash-drums

Maria Luisa Capurso-voice

Joe McPhee-cornet, saxophone

Fred Marty-doublebass

Paul Lovens-drums

noid-cello

Makoto Sato-drums

Raymond Boni-electric guitar, mouth organ

Thomas Berghammer-trumpet

Hans Falb-turntables

a Irene Kepl-violin

Click an artist name above to see in-stock items for that artist.
---


UPC: 3770000618594

Label: Improvising Beings
Catalog ID: ib38
Squidco Product Code: 21589

Format: 4 CDs
Condition: New
Released: 2015
Country: France
Packaging: 4 CD Jewel Tray Box Set
"Phyllauxckzairrah No. III" recorded on Janurary 20th, 1973 at Verrieres-Le-Buisson.

"Carte Postale" recorded on July 14th, 1975 at Igny.

"The Game" recorded in 1975 at Verri¸res-Le-Buisson.

"Le Lezard Marcio" recorded in 1977 at vers Cluny.

"La Reprise Des Vides" recorded in Feburary 2000.

"La Boutique Aux Fredaines" recorded on August 9th and 10th, 2013 at Poul An Marechal.

"Loope" recorded at 1975 a Igny.

"Wild Thing" recorded on May 23rd, 2011 at La Garenne-Colombes.

"Alternative Oblique" recorded at Feburary 16th 2015 at La Garenne-Colombes.

"Live At "Le Souffle Continu"" recorded at Feburary 7th, 2013 at Paris.

"Les Yeux Fermes" recorded at March 21st, at Paris.

"Torrent Vertical" recorded at April 24rd, 2015 ta Altamura (Italie).

"A Propos Des Reflexions" recorded on May 23rd, 2015 at La Garenne-Colombes.

"Ombres Dans Un Espace Sans Coude" recorded at May 17th, 2015 aNickelsdorf (Autriche).

"A Big Final Mess In Open Air At Nickelsdorf" recorded on May 16th, 2015 a Nickelsdorf (Autriche).


Descriptions, Reviews, &c.
"This 4-disc anthology chronicles 40 years of unreleased material culled from Jean-Marc Foussat's archive, prepared for his 60th birthday. The first disc features short pieces from 1973-1977 that document his early sonic experiments with homemade electric guitar and later with the vintage portable analogue synthesizers, radio waves and magnetic tapes, with the prog-rock group Phyllauxckzairrâh N° III and the anarchistic prog-fusion group Le Lézard Marçio.
The second disc stresses Foussat's unique musical language in a free-improvised setting with the group Thrash the Flash, featuring him playing his analog synthesizer, digital piano, tapes and voice and with guitarist Marc Dufourd, vocalist Lea Dufourd and clarinet and flute player Jérôme Bourdellon. These recordings from 2000 and 2013 highlight his role as a sonic magician, producing a stream of spacey, noisy and weird sounds that are the driving force behind these wild, again anarchistic improvisations, even when the improvised textures tend to adopt a bluesy pattern.
The third disc traces the development of Foussat innovative musical language on the EMS synthesizer with clever usage of voice samples through four extended solo pieces. The first from 1975 is ethereal, minimalist piece but the rest are much more complex, multi-layered and feature this vintage electronic instrument as an infinite sound generator, producing a busy flow of disturbing, yet vivid and nuanced textures.
The fourth disc is the real treat, presenting Foussat "with others", in different ad-hoc free-improvised settings, all recorded in 2015. First with trumpeters Jean-Luc Cappozzo & Nicolas Souchal and trombonist Matthias Mahler in a 25-minutes of arresting sonic searches that highlight the emphatic interplay and the distinct voices of each of the musicians. Following is a sparse improvisation with vocal artist Marialuisa Capurso and drummer Dirar Kalash. The third is a haunting, cinematic texture, charged with Foussat brilliant usage of voice samples, with Joe McPhee playing only the pocket trumpet and experimental double bass player Fred Marty. The last two improvisations were recorded at Jazzgalerie Nickelsdorf in Austria, when the gallery present its homage event to McPhee in May 2015. The first one is a delicate, short one with German drummer Paul Lovens. The second one is 25-minutes slow-burning improvisation that feature trumpeter Thomas Berghammer, guitarist Raymond Boni, the gallery mastermind Hans Falb on turntables, violinist Irene Kepl, McPhee on saxes, voices and trumpet, cellist Noïd and drummer Makoto Sato.
Highly recommended."-Eyal Hareuveni, freejazzblog.org
Get additional information at Free Jazz Blog

Artist Biographies

Track Listing:


CD1



1. Les Jupons Volent Toujours Plus Haut 0:25

2. La Lamentable Stupefaction Des Drosophiles Twenty Five 9:56

3. Carte Postale Pour P.P. 5:34

4. The Game N8 9:11

5. The Game N6 1:51

6. The Game N4 1:56

7. The Game N2 2:15

8. Un Peu De Soupe... Pour Commencer 1:50

9. Fanfare 1 - Petite Mise En Forme 0:45

10. On N'A Rien Sans Rien 1:16

11. The Game N1 1:12

12. A La Gare 1 0:22

13. A La Gare 2 0:47

14. Fanfare 2- Le Depart 1:53

15. Voyage De Reve 1:39

16. Meteo 0:33

17. Reve D'Arret Nie... 0:59

18. Tea For Two 0:30

19. ... Mais Cela Ne Tournerait-Il Pas Au Cauchemard 1:05

20. Fanfare 3 - La Savane Hier 1:23

21. Controle 0:43

22. Vexation 1:03

23. L'Echappee Etait Belle 0:18

24. ... Mais Ca N'Etait Pas La Fille D'Ipanema 1:07

25. Sans Titre 0:54

26. Il Faut Se Faire Une Raison 1:27

27. Progression Africanophile 1:26

28. Correspondance 4:15

29. Ah... 0:10

30. Tout Ca Pour En Arriver La 2:16

31. A L'Air Libre 1:14

32. Jusqu'Au Dernier 1:37

33. La Chambre D'Ami 0:34 CD2



1. Run, Run Petty Pat Upon 9:26

2. Barbarity 4:50

3. Human You Mean 6:46

4. Memoranda IV 4:27

5. The Vanishing - Under Those Deep Outlets 2:26

6. Health Museum 7:15

7. Alarm - Northern Pre-Gap 1:30

8. Fleeting Behaviour 3:07

9. Loop Level Pool 23:55

10. La Boutique Aux Fredaines Et Autres Caprices Annexes 1:43

CD3



1. Loope 23:56

2. Wild Thing (Tribute To J.H.) 21:03

3. Alternative Oblique 17:26

4. Live At "Le Souffle Continu" 15:22

CD4



1. Les Yeux Fermes 25:00

2. Torrent Vertical 11:55

3. A Propos Des Reflexions 11:38

4. Ombres Dans Un Espace Sans Coude 7:21

5. A Big Final Mess In Open Air At Nickelsdorf 23:59

Related Categories of Interest:


Box Sets
Improvised Music
Free Improvisation
European Improvisation, Composition and Experimental Forms
Electro-Acoustic
Jazz
Rock and Related
Staff Picks & Recommended Items

Search for other titles on the label:
Improvising Beings.
---

Recommended & Related Releases: