Fine, Milo Free Jazz Ensemble

Earlier Outbreaks of Iconoclasm (1976-8) [2 CDs]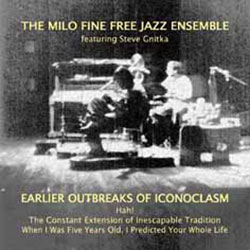 An excellent reissue of reedist/drummer/pianist Milo Fine, bringing together material released on Hat Hut in 1976 & '7 ("Hah!" & "The Constant Extension Of Inescapable Tradition") plus his never-issued '78 album "When I Was Five Years Old, I Predicted Your Whole Life".


product information:



UPC: 5030243520626

Label: Emanem
Catalog ID: 5206
Squidco Product Code: 20515

Format: 2 CDs
Condition: New
Released: 2015
Country: Great Britain
Packaging: Cardboard Gatefold 3 Panels
Tracks A1-A10: recorded in Anwatin Middle School, Minneapolis, Minnesota, on December 26th, 1976

Tracks A11-B4: recorded at St Olaf College, in Northfield, Minnesota, on August 20th, 1977

Tracks B5-B16: recorded live in concert at the Rainbow Gallery in Minneapolis, Minnesota, on Aril 21, 1978.


---
Personnel:


Milo Fine-drum set, piano, prepared piano, fuzz tone piano, b-flat clarinet, voice

Steve Gnitka-electric guitar

Click an artist name above to see in-stock items for that artist.

Sample The Album:


Descriptions, Reviews, &c.
"Three early recordings by the long lasting duo of Milo Fine (clarinet, percussion and piano) and Steve Gnitka (electric guitar). The first two sessions, HAH! from 1976 and The Constant Extension Of Inescapable Tradition from 1977, were issued on two hat Hut LPs (with two tracks missing). The third, When I Was Five Years Old, I Predicted Your Whole Life from 1978, was scheduled to appear on Horo, but that label went bust before it happened, so this material is now making a very belated first appearance. Even at this early stage, these two musicians show themselves to be excellent improvisers, with a few original compositions thrown into the varied mix. Reissue of hat Hut LPs E and H with much extra material. 154 minutes."-Emanem
FOOTNOTES
LP titles:
HAH! -- Having as much to do with a laugh/chortle made by a sharp intake of breath that Steve and I shared for a time, as a response to the fact that, despite our (and my) having been consistently marginalized by the provincial, inbred arts scene of the Twin Cities, we were "signed" to a Swiss label; for a time anyway.
THE CONSTANT EXTENSION OF INESCAPABLE TRADITION -- A phrase I first came up with for a review published in Jazz Forum.
WHEN I WAS FIVE YEARS OLD, I PREDICTED YOUR WHOLE LIFE -- Quintessential Gnitka.
Track titles:
Martin Davidson suggested that I rework the track titles. The originals were simply numbers or instrument indications, which were occasionally accompanied by what most would consider "real" titles. Those have been retained. However, as a result of my admittedly negligible reworking, a couple heretofore private "in-joke" designations have surfaced. Additionally, Martin contributed a fitting track retitling, and his reaction to the opening track led me to lend it a new sheen. As for the transition of "Ballad for d." to "Melody For The Semi-Enlightened"; while initially intended as an observation concerning "d.", let the record show that, in hindsight, it clearly reflects the "tunesmith" as well. Lastly, concerning a couple track titles which aren't titles per se. "1-2-3-4" (sometimes "1-2-3" or "1-2-3-4-5") was a strategy employed at the time to avoid the all-too-common gradual entry paradigm endemic of (too?) much improvised music. Likewise "sparse" was designed to push us into that arena. (Keep in mind this was previous to relative silence being officially "rediscovered"; again.) However, it's worth noting that here, ironically, we ended up more or less subverting the intent.
Acknowledgments:
The Rainbow Gallery, owned and operated by Steve Kimmel, was a relative haven for free jazz/improvised music in the few years of its existence. It's likely I didn't fully express my appreciation for the opportunities provided us during that time; until now.
Heartfelt gratitude to Martin for alerting me to the shifting landscape, and stepping in to keep the Hat material out of nefarious hands (or, more likely, oblivion; which, of course, is not a bad thing). I'm generally not one for reissues, but recently revisiting hat Hut E & H, I'm very pleased to have them encapsulated on a single document. I'm even more pleased that, particularly given my deep fondness for the music, the announcement of the Horo LPs impending release on the jacket of the 1980 LP AGAINST THE BETRAYERS (Shih Shih Wu Ai Records SSWA 3) is, 35 years later, finally a reality. Additionally, I am deeply appreciative of the characteristically meticulous work Martin took in preparing the material for this iteration. The fact that he was able to capture the essence of my original design idea for the front cover of the Horo LP is the proverbial icing on the cake.
--milo fine (from the liner notes)
This album has been reviewed on our magazine:




The Squid's Ear!

Artist Biographies

Track Listing:


CD 1



1. The Feint 0:54

2. Hah! Duo 2 4:08

3. Hah! Duo 3 6:23

4. Keep It Light (Gnitka) 3:48

5. Hah! Duo 5 4:46

6. Penis Ants 4:28

7. Hah! Duo 7 3:58

8. One-Two-One 5:07

9. Hah! Piano Solo (Fine) 6:26

10. Hah! Duo 9 3:42

11. Extension Guitar Solo 1 (Gnitka) 6:41

12. Ballad For d. (Clarinet Solo)(Fine) 6:31

13. Extension Duo 1 (Gnitka) 5:58

14. Extension Duo 2 4:26

15. Extension Drum Solo 1 (Fine) 4:44

16. Extension Dru Solo 2 (Fine) 2:26

CD 2



1. Extention Guitar Solo 2 (Gnitka) 5:54

2. Extention Guitar Solo 3 (Gnitka) 1:08

3. Extention Duo 3 7:01

4. Gin And Tonic Scotch For Lars 4:42

5. Five Duo 1 5:04

6. [1-2-3-4] 3:18

7. Scottish Folk Tune (Fine) 4:08

8. Five Duo 4 (Gnitka) 5:23

9. Five Duo 5 3:40

10. [sparse] 5:31

11. Five Duo 7 5:30

12. Five Duo 8 4:39

13. For Mink Stole (Gnitka) 7:09

14. Five Duo 10 5:06

15. Five Duo 4:48

16. Melody For The Semi-Emlightened (Fine) 6:33

Related Categories of Interest:


Improvised Music
Jazz
Free Improvisation
European Improv, Free Jazz & Related
Duo Recordings
Guitarists, &c.
Percussion & Drums
EMANEM & psi
Instruments with Preparations
Instant Rewards

Search for other titles on the label:
Emanem.
---

Recommended & Related Releases: