Granberg, Magnus and Skogen

How Lonely Sits the City?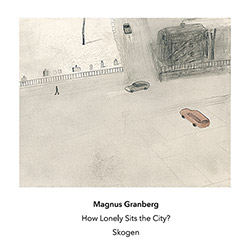 Composer and pianist Magnus Granberg developed this delicately introspective work as a collaboration between his Skogen ensemble and cellist Leo Svensson Sander & harpist Stina Hellberg Agback, concerning the development of art in times of crisis, using Messiaen's "Quatuor pour la fin de temps" (Quartet for the End of Time) as a basis, and brought into focus by actual pandemic.


Sample The Album:


product information:

Personnel:


Anna Lindal-violin

Eva Lindal-violin

Stina Hellberg Agback-harp

Magnus Granberg-prepared piano, composer

John Eriksson-vibraphone, glockenspiel, whistling

Henrik Olsson-objects, friction, piezo

Erik Carlsson-percussion

Click an artist name above to see in-stock items for that artist.
---


Label: Another Timbre
Catalog ID: at188
Squidco Product Code: 31497

Format: CD
Condition: New
Released: 2022
Country: UK
Packaging: Cardboard Gatefold
Recorded at Atlantis, in Stockholm Sweden, on June 30th, 2021, by Niclas Lindstrom.


Descriptions, Reviews, &c.
Another Timbre Interview with Magnus Granberg
Can you tell us about 'How Lonely Sits the City'. Where does the title come from, and are you adapting/transforming existing musical pieces in the composition, as you have in previous pieces?
In September 2019 I was asked by cellist Leo Svensson Sander and harpist Stina Hellberg Agback if I would be interested participating in a project together with them, violinist Eva Lindal and a couple of visual artists, a poet and a scenographer, which would deal with questions concerning how to make art in times of crisis, something I gladly and curiously accepted. The project would take Messiaen's 'Quatuor pour la fin de temps' and its genesis, creation and historical context as a point of departure when reflecting on questions on how and why to make art in our present time and its escalating climate crisis. The project received some funding from a couple of Swedish institutions and we were just about to start working when the pandemic quite suddenly broke out in late February or early March 2020. All of a sudden we found ourselves in a situation which affected our working conditions more profoundly than we ever had expected in the short term and which not only had us reflect on the above mentioned questions but rather forced us to quickly adapt to the changing situation. So at the time when I was about to start writing some music for the project, societies all over the world were more or less closing down and I was quite struck by all these pictures of more or less deserted or abandoned cities from all over the world that were being broadcast and reproduced during the initial period of the pandemic. So, quite inevitably the first verse of the book of Lamentations came to mind, "How lonely sits the city that was full of people!", a text which of course also has been set to music innumerable times throughout history and which also became the title of my piece. So with these two different points of departure, Messiaen on the one hand and the Lamentations on the other, I started to conceive of the piece and in the end I ended up using mainly tonal material (basically a few scalar motions which I transformed into new modes) but also a couple of rhythmic cells from Messiaen's piece, and some further rhythmic materials from Thomas Tallis's and William Byrd's different takes on the Lamentations of Jeremiah as points of departure for generating new musical materials. When starting to conceive the piece I was also very touched and inspired by the recurring (and always slightly altered, if I remember correctly) melody played by the flugelhorn in Stravinsky's Threni, which has some sort of counterpart in an extended melody in slightly shifting meters in my piece as well. The original version of the piece was written for a quartet consisting of violinist Eva Lindal, cellist Leo Svensson Sander, harpist Stina Hellberg Agback and myself on piano, but since we also wanted to do something with Skogen during the pandemic I just decided to write some additional parts for us to play and record.
That's a remarkable circumstance, with the theme of the artistic project turning out to be prophetic. I don't think of your music as containing, or being engaged with, any kind of social commentary, but in this case do you think that the sense of societal crisis did affect the music you were writing in some way (other than the pieces it uses as its source)?
No, I'm generally quite sceptical and doubtful when it comes to musics need or even ability to convey or subordinate to these kinds of extramusical concerns in a time where at least I have a hard time seeing that there would be anything even close to a general agreement on the literal meaning or effect of certain musical notes, modes, tropes, gestures or structures etc, as compared to, say, the Affektenlehre of the Baroque era or the philosophy and aesthetics of North Indian music, for example. From my perspective I think any social or political implications perhaps rather would be found in how the music itself works; how it is organised, what the relations are between composers, conductors and musicians and the position of the music and its practitioners within a wider social context. And from an ecological perspective I guess that perhaps quite simply would translate to how music making in all its various aspects relates to nature and to the use of natural resources, for example.
The line-up for Skogen in this piece is slightly smaller than in other pieces you have written for the ensemble. Is that simply an effect of the Covid pandemic, or are you now more interested in smaller groups developing your music?
Yes, the pandemic did affect our work in various ways. Inviting any of our international friends didn't seem like an option for obvious reasons and in the end we also had to postpone the recording twice due to various incidents and restrictions pertaining to the pandemic, we also ended up being a smaller ensemble on the recording than initially planned. But it was also a great joy to get the possibility to invite Swedish violinist Eva Lindal and harpist Stina Hellberg Agback to the ensemble, something which resulted in a very fruitful and slightly different dynamic, I think.
Aside from this particular project, how has the pandemic affected you as a musician and composer?
In terms of economy, the pandemic hasn't affected me too badly, there has been some governmental support for the arts and I have also been able to go to my day job (in an antiquarian bookstore) as usual. But I guess the pandemic definitely has made me abstain from planning too many and too extensive projects and many (most) of the projects that have been planned have also been postponed, canceled or changed in various ways and multiple times. But I have at least been trying to think, compose, play and record as much as the circumstances have allowed, and I do hope and think that these circumstances eventually may help us reflect upon and reconsider our work in ways that might turn out quite productive in the long run.
Your music, and the titles of your pieces, always evoke a mood of melancholy. I'm also very drawn to that, and the Another Timbre catalogue is full of melancholic music. Do you have any ideas as to what the pull of melancholy in music is?
Melancholy is a very old concept with shifting meanings and connotations throughout the ages, and I guess what might evoke a feeling of melancholy in one individual may as well stir feelings of sentimentality or irritation in others. But if we choose to look upon melancholy as an expression or response to loss (as in Freud, for example), I think Rúmí captures the pull of melancholy in music (and its dual and paradoxical capacity of on the one hand stirring pain while at the same time relieving it) very well in his introduction to the Mathnawí, here in Reynold Nicholson's translation:
"Listen to the reed how it tells a tale, complaining of separations - Saying, "Ever since I was parted from the reed-bed, my lament hath caused man and woman to moan." And: "The reed is the comrade of everyone who has been parted from a friend: its strains pierced our hearts. Who ever saw a poison and antidote like the reed?"
And I think the concept of ekstasis, of standing outside oneself, of forgetting oneself and, so to say, revert to the reed-bed, is quite closely related to the concept of melancholy, at least in Rúmí. And in a way I guess that's very much how music might work as well: at best it makes you forget about yourself and helps you become part of larger, more encompassing and selfless experience, in consequence relieving you of a sense of loss and melancholy. And the act of playing and the playfulness involved in the collective music making is essentially a very joyful experience, I think.
This album has been reviewed on our magazine:




The Squid's Ear!

Artist Biographies

Track Listing:


1. How Lonely Sits the City? 54:56

Related Categories of Interest:


Compositional Forms
Large Ensembles
Instruments with Preparations
Objects and Home-made Instruments
European Improvisation, Composition and Experimental Forms
New in Compositional Music

Search for other titles on the label:
Another Timbre.
---

Recommended & Related Releases: