Wooley, Nate

Seven Storey Mountain VI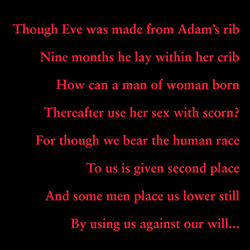 Composer & trumpeter Nate Wooley presents the 6th composition of his SSM series exploring music's ability to bring catharsis and ecstatic release to the performers and listeners, in a large ensemble of 11 musicians and voice, in a stunningly sophisticated large work of modern orchestration through acoustic and electronic/amplified instruments; a masterwork.


Sample The Album:


product information:

Descriptions, Reviews, &c.
"The composition of Seven Storey Mountain VI came into focus when I first heard Peggy Seeger's recording of "Reclaim the Night" from her album Different Therefore Equal. I listened to it over and over again, concentrating on the power of her words and the clarity of her voice.
SSM6 uses the first few lines of "Reclaim the Night" as a kind of mantra. The hope was that those leaving the performance — or coming to the end of this recording — would not just remember the melody but also, through its repetition, be able to retain some of Peggy's words.
The phrase "You can't scare me" that dovetails with the last repetitions of Seeger's lyrics was inspired by Bobbie McGee's "Union Maid." I initially tried to combine the lyrics and melodies of both songs but the result felt too 'clever' and drained the power of both songs. Instead, I just set the words, "You can't scare me" — not an elemental feature of McGee's original song — to my own melody and let them act as the piece's final affirmation; the words that I hope the listener takes with them into their daily life. "-Nate Wooley
"ECSTATICISM
"It's a term coined by Nate Wooley for the hoped achievements of his seven part song cycle for large ensemble, Seven Storey Mountain. Although named after Thomas Merton's self-referential religious tract, the project, now approaching its ten year anniversary has only an oblique connection to any sense of religious or mystical ephemera. Instead, the SSM compositions work to create a sense of ecstatic joy and emotional release that is purely human; made by people for people.
Now finishing its fifth iteration, the Seven Storey Mountain family consists of almost thirty different musicians from the jazz, new music, noise, and rock communities including Colin Stetson, C. Spencer Yeh, Chris Corsano, David Grubbs, Ben Vida, TILT Brass Ensemble and others. The current version, SSMV is performed by 18 people and has been referred to by reviewers as a modern form of Bruckner or Mahler's imposing grandeur.
SSM began as a commission by Dave Douglas's FONT organization. The first piece was performed by a trio of Paul Lytton, David Grubbs, and Nate Wooley along with tape accompaniment. Each successive version of the piece has been transformative; both with the tape and the orchestration. As mentioned above, SSMV consists of 18 members and the projected forces for SSMVI (which will premiere in 2018) counts almost at 40.
Originally meant only to be performed once per version, the demand has been high enough that secondary performances have been made on the occasion of Phillip Glass's birthday in Brooklyn, Winter Jazz Fest in NYC, FIMAV in Quebec, and the first European version at A'larme Festival in Berlin.
Exclaim Magazine in Canada said this about the ensemble's recent performance at the Victoriaville Festival in Quebec:
The first two versions of "Seven Storey Mountain" by Brooklyn-based trumpeter, Nate Wooley, (which retains the
same basic structure, but gets larger every year,) were trio works. The third and fourth featured a nine-piece band, plus the TILT Brass Octet. The latest version, which Wooley presented last night (May 20), upped the band to 11 pieces, kept TILT on hand and added a narrator.I'm uncertain where the narrator's text originated (perhaps in the Thomas Merton book after which the piece is named?), but it set a reflective mood into which TILT began playing figures that kept making me think of Mingus's late '50s
arrangements. From there, the piece took its traditional path -Wooley's breath attacks led into vibraphone notes, and the instruments slowly piled on from there until there was a fevered blare of improvisational ecstasy tearing through the auditorium. It was just a great massive pile of squall -totally exhilarating.
There's a logic to the piece, and a very specific order to when and how each instrument enters and leaves the fray. This particular ensemble -twinned drums and vibraphones, cello, electronics, contrabass clarinet, baritone sax, tuba and trumpet -was large
enough to get the job done. But one can't help but wonder how big Wooley's next ensemble to tackle the piece will be. I can't wait to find out."-Nate Wooley website
This album has been reviewed on our magazine:




The Squid's Ear!

Artist Biographies

Track Listing:


1. Seven Storey Mountain VI 45:02

Related Categories of Interest:


Improvised Music
Compositional Forms
Jazz
Free Improvisation
NY Downtown & Metropolitan Jazz/Improv
Large Ensembles
Nate Wooley
Spoken Word
Staff Picks & Recommended Items

Search for other titles on the label:
Pyroclastic Records.
---

Recommended & Related Releases: