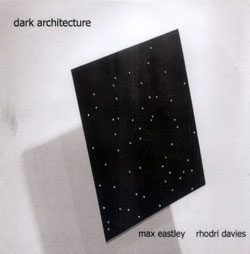 Another Timbre gives a live performance from Max Eastley and Rhodri Davies on the night of November first, 2008, in Bracknell, Nerkshire, its proper due with this release. No tyrannical prehension here; only decisive trenchancy to the present instant, and to the errant intimacy of the outside whose indefiniteness seems to draw the duo away from any inflexible identity as such. No, in this brief performance, thirty-four minutes in all, Eastley and Davies display enough technical ability and imagination to go wherever seems right at the moment.
Both lay with a kind of passivity, one that knows when to lay back, to shade, shadow, intervene and interrupt. In this vein, Eastley is a listening percussionist, adding bleeps to the richly layered proceedings or bringing out digital twirls kneaded into the inspired, sticky mass. Davies, too, demonstrates a sort of unreal presence, never quite here nor there. Yet one picks up wisps of electric harp, its lovely tone, its expressive vigor, physical intensity, and dynamic range.
Despite the varied character of this piece, its galvanic combinations and wandering nature, the disc is insistent, focused and probing. It may be an exploration through a slow, murky seep, then, but neither player ever gets tangled in loose ends, and a graceful and largely satisfying piece is the result.
Comments and Feedback: