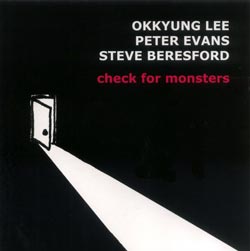 The sprit of playfulness romps through this set of five pieces where trumpet, bass and piano frolic and leapfrog in inventive and imaginative interactions. The effect is a deceptively simple one, on first hearing, but upon a closer listen the awesomeness of these guys' chops, both physical and metaphysical, is clearly audible.
The instrumental skill is first displayed in the sustained intensity of the fifteen-minute opening piece "Phacthio," but intensity is not the only principle here, as the moods are shifting and varied. "Yinothanot" flows with cascades of ideas that stop and start, tumble and fold into a richly textured large canvas for Evan's trumpet splashes, Lee's cello reiterations and Beresford's pianistic punctuations.
By contrast, "Egokrlo-nar" is pointillistic and precise, serving up an economical series of fragmentary episodes where the musicians concisely explore many of the timbral possibilities of their instruments.
"Gwendol ap Siencyn" evolves from a pastoral peacefulness with lyrical strains from the three instruments into an involved articulation of the musical thought of these improvisers, who obviously have a wide-ranging vocabulary and the stylistic sophistication required to freely compose a nineteen minute musical novel that says more than one can ever paraphrase.
Aptly titled, Check for Monsters is a perky release that plays cheeky musical pranks on the listener, keeping one continually intrigued about what will happen next. Surprise is the effect of the process of the unprejudiced imagination, clearly a central aspect of the poetics at work here.
Comments and Feedback: