Concert photos by Urania Mylonas
Food chain Barbie photo by Tom Forsythe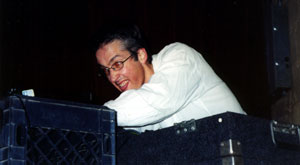 Mark Hosler

"Illegal art?" John Filker, a New York-based photographer and painter grew incredulous when asked what he thought about using someone else's work without permission. "It's wrong! You can't just copy someone else's work and then add your name to it! You can't use another artist's images or other work without their approval. That's not right." But when asked about using corporate images or sounds illegally, his response was far different. "Oh, well it's OK to fuck with corporations, it's not like a corporation is an artist" he said.

Even an employee for a large advertising agency in New York City, who works in the art department (but didn't want her name or firm to be disclosed), didn't seem to mind that the Illegal Art Festival, which had its New York run from November 13 to December 6, and was organized by Stay Free! magazine, was making use of some of the corporate images that her company might have made. "This sounds like great fun," she said. "I'm tired of large restaurant chains using my good work. Let someone else use it and turn it into real art!"
Christian Marclay

So is stealing from the "big guys" OK? Is it fine to make art out of corporately owned culture? Or someone else's work? Artists like Mark Hosler of the audio-collage group Negativland would tell you it is OK. He might even say that it's not stealing, that it's "transformative re-use," as he called it in a recent lecture at Anthology Film Archives. Using fragments of one thing to create another, potentially more interesting, work is a part of artistic freedom and shouldn't be silenced, Hosler said. What the Illegal Art Fest is exploring is the illegal use of images or sounds; mostly corporate or at least owned by corporations like record labels, toy companies and other media giants, and how they are being reinterpreted by artists.

In a society where creativity is to be rewarded but free and open access to ideas -- from music to journalism to art -- allowed, a conflict can arise, leaving lawyers to sort out questions of ownership and compensation. What are the copyright issues and who do copyrights really protect anyway? And, in the case of illegal use of images or sounds, who is actually getting hurt by the copyright laws?

At a recent short film showing at Anthology Film Archives, Hosler presented some (very) illegal short films he and the other members of Negativland made for some of their recordings. The screenings included a short called Gimme the Mermaid, which was made with help from Disney animator Tim Maloney, who created the film using Disney's equipment after hours. Mermaid combines the sound of a music industry lawyer with the voice of the Little Mermaid and Negativland's cover of Black Flag's "Gimme Gimme Gimme," Former Black Flag guitarist Greg Ginn was part owner of SST Records, the label that tried to force Negativland to pay the entire legal costs associated with a lawsuit brought on by Island Records regarding illegal use of a song by Irish megastars U2, which almost broke the band financially.

The U2 piece also included unauthorized a recording of Casey Kasem, a bootlegged outtakes from his American Top 40 show in which, during a dedication to a dead dog called "Snuggles," he cursed the sound engineer and insulted the band U2, saying, "these guys are from England and who gives a shit?" The piece -- featuring manipulated and deconstructed segments of the U2 song "I Still Haven't Found What I'm Looking For" -- was called "U2: Special Edit Radio Mix" and included on of Negativland's album "Negativland: U2," an album that U2's label, Island Records, thought looked a little too much like an actual U2 album since the letter "U" and the numeral "2" were featured far more prominently than Negativland's name. The 15-minute long album had barely been arrived in stores when Island Records slapped the group and SST with a lawsuit. And while Kasem didn't file a lawsuit, he and his lawyers did threaten Negativland with one if they tried to release the track again or in any way use the unauthorized outtakes of Kasem from the show.

This move may have seemed hypocritical, however. While being interviewed during a concert that was part of a protest against nuclear weapons testing outside Las Vegas in 1992, Kasem was asked about the Negativland record, and he wasn't going to take action against the band and that he was against censorship.

"No, I'm not going to complain about it, it's a free country and we have the First Amendment, so...no problem," he said. "I'm against censorship of any kind...Nobody should be censored."Negativland chronicled the saga in their book Fair Use: The Story of the Letter U and the Numeral 2.

Legal actions aside, the song was one of the first, and certainly one of the most prominent, of a wave of art that steps on the toes of copyright control.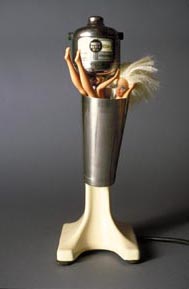 At CB's 313 Gallery in New York City, artists and photographers made creative use of corporately owned imagery. One of them, Tom Forsythe, stuffed the beloved Barbie doll in a blender and a martini glass and messed up her hair for good measure in his series of photographs entitled Food Chain Barbie. Forsythe received a letter from Mattel claiming the series of images he had posted on his Web site infringed on its copyright and trademark. Forsythe wasn't making any money from the images and decided to fight the case with help from the ACLU. A federal court ruled in favor of Forsythe and Mattel immediately appealed. A decision is pending in May, 2003. Freedom of expression is OK, but don't mess with Barbie.
Canadian copyright laws are even stricter than in the US and while our neighbors to the North enjoy other freedoms, fair play, the Canadian equivalent of fair use, does not allow for parody, as artists Diana Thorneycroft and Michael Boss discovered when their series of drawings Man, Dog, Husband & Wife, Dinosaur, Man with Large Nose, Mouse -- which portrays Marge and Homer Simpson, Barney Rubble, Burt of Sesame Street, Barney the Dinosaur, Goofy and Mickey Mouse in various stages of bondage and victimization -- was rejected by Gallery 1CO3 in Winnipeg, Manitoba, at the advice of the gallery's lawyer. The artists eventually showed their work at another gallery in Winnipeg and have not been sued as of yet.
While Thorneycroft and Boss were subverting known cartoon characters to bring to light the face of violence, Brooklyn-based artist Heidi Cody wrote the word "subvert" in letters from corporate logos. The piece is part of a larger work called The American Alphabet and not only has she not heard complaints from those corporations, but some advertising agencies have even paid Cody to use the letters, seemingly allowing some freedom of expression and perhaps freedom to profit.
When artist Kembrew McLeod decided to copyright the term "Freedom of Expression," he got his wish and 10 years of exclusive use of the term for his zine. McLeod, with the help of a friend posing as the publisher of an imaginary punk rock magazine also called Freedom of Expression, pretended to sue the magazine and even had a lawyer send a cease and desist letter to the "offending magazine." McLeod was later interviewed by a local paper, which quoted the frustrated copyright holder as saying "I didn't go to the trouble and expense of trade marking 'Freedom of Expression' to have someone else come along and think they can use it whenever they want."
Luckily for most artists, McLeod was just kidding, since freedom of expression and freedom to express yourself using many, many samples, was the thing at a night of music that was part of the Illegal Art Fest at Tonic in the Lower East Side.
Musicians and sound manipulators put on performances that would be a copyright lawyer's dream (or nightmare, however you choose to see it).The experimental music duo Spin-17 used noisemakers, toy horns, and electric pianos, a turntable playing sounds from science fiction movies like Godzilla and recordings from space shuttle launches. Motoko Shimizu sang from operas, while Ed Chang played guitar during their performance. "No genre is safe and the boundaries between art and doleful indulgence are blurred," the duo writes on their Web site.
The Thimbletron, an invention created by the one-man band Evolution Control Committee, could be considered the ultimate indulgence for an artist who likes to use samples. The group claims to have discovered the science of Thimbletronium, as well as its relevant subatomic particle, Superdupertron, and to begin the show, Mark Gunderson donned Thimbletron: a pair of gloves with wires and thimbles attached which trigger samples from a laptop when touched together. After applying olive oil to the thimbles "for conduction purposes," Gunderson, with his wild white hair and white jumpsuit, pressed his fingers together, but no sounds ca m e out. Afte r much fumbling and the further application of olive oil, the device sprang to life and the sounds ranging from AC/DC and Dan Rather to instructional records and meal menus pumped out of the speakers.
The quirky band is better known for their controversial single "Rocked By Rape", which features samples of Rather and resulted in a lawsuit against them by CBS and the record being pulled. Even in cases where a song might be protected as parody or freedom of expression, artists can scarcely defend their work against deep-pocketed corporations and their Philadelphia lawyers.
Lawrence Lessig, a law professor at Stanford University, said copyright laws have reached a level of control where even an educator, wanting to use a three-second clip from "The Simpsons" is required to pay $25,000 for the privilege.
"The problem is their insane rules are now being applied to the whole world," Lessig said in a speech he gave this past summer at the Open Source Convention in California. "This insanity of control is expanding as everything you do touches copyrights."
But is having a low profile, like Evolution Control Committee, the only way to get around the radar screen of the lawyers and avoid paying hefty usage fees? Are artists like Beck, Public Enemy and Beastie Boys and countless other "mainstream" artists who have the money to pay for rights (and lawyers) the only ones who can use sampling in their music? Not as long as Negativland and Evolution Control Committee and other "underground" artists continue to keep the samples and the music and humor coming, in hopes that the next piece of mail isn't another subpoena, but a fan letter.
Visit Stay Free! online

Stay Free Magazine is sold at Squidco