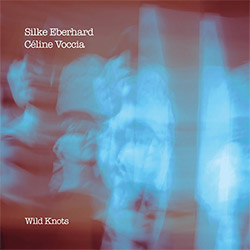 Yet another confirmation of Berlin's constantly burgeoning creative music scene is this free improv from German alto saxophonist Silke Eberhard and French pianist Celine Voccia. A young veteran, Eberhard has worked with everyone from Aki Takase to Dave Burell. She has also recorded in trio form with bassist Jan Roder, as has Voccia, a more recent Berlin resident. Lively in part, meditative at others and with the pianist emphasizing formalism and abstractionism, the seven improvisations evolve at various tempos, but have in common responsive musical intimacy from both sides.
Voccia's keyboard work is featured most extensively on "Paradoxe", responding to Eberhard's slowly evolving trills and key percussion with even more methodical piano lines, digging into the instrumental low-pitched innards for pressurized rumbles and vibrations. The concluding "For Uli" on the other hand begins andante, then picks up speed as piano patterning expands to hard pounding with expressive glissandi, as the saxophonist advances to aviary altissimo cries, tongue stops and sprouting split tones.
Voccia's ability to easily slide from creating waterfalls of player piano-like notes to rolling single note along the soundboard is constantly matched by Eberhard's creativity which encompasses reed arabesques, pinpointed squeals and barely there respirations. Additionally a technical outline like "Renaissance' which mates concentrated air forced through the horn's body tube and swirling keyboard patterning, doesn't mean that the two neglect highlighting emotional and melodic interludes elsewhere.
Eberhard is already known on the international free music scene, and it seems Voccia will soon join her. Who know what other musical revelations will emanate from the German capital in the future?
Comments and Feedback: