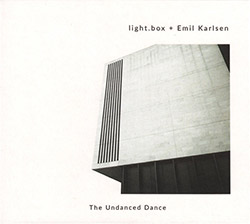 A live recording from the duo of Alex Bonney on trumpet and electronics and Pierre Alexandre Tremblay on bass guitar and electronics, here joined by Emil Karlsen at the drums. At the top we're boxed about the ears with bone-rattling bass rumble which is quite the treat in itself, eventually joined by nimble thin-stick scatter shot percussives. A clear, unaltered trumpet adds nifty commentary and we're off to the races. Little by little strange unique textures creep in around the edges, and the whole mass eventually dissolves into a geolithic low-end throb with tiny elbows needling. When the buzzy trumpet returns it makes perfect sense. Even more so when it splits into two distinct voices. A quieter, more concentrated collection of metallic string tumble and quickquick drumming brings us back to home. All three pieces here are broken into several parts, with appropriate track markers, so you can return to your favorite bits easily. Very thoughtful that.
"Loosing the Shot" matches low-end bombing with dying-battery air raid siren and someone fumbling through a field of twisted rebar, again leveling off after the initial sortie as the pilot's karma rears its inevitable head. A roomful of chirping electronics buoys up some sputtering echoey horn bits. There's some totally satisfying crunch swinging across the stereo field before things warp and thin out. A lone foghorn with burbles and some quite beautiful harmonics; ghosts of the previous five minutes.
The final statement starts with a spacey aspect, trumpet in a big concrete space with reverbed sparsity from drums and bass. Miles Davis on acid, or Jon Hassell with AMM. Sort of... This drops away to reveal loopy murmuring electrons and skipping records. Makes me think that somehow water is involved. What happens if I turn this knob?
Comments and Feedback: