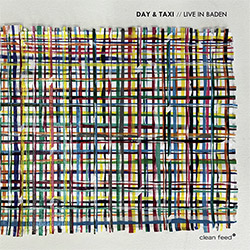 It is crucial for this writer to keep in mind an idea of reliability when discussing modern jazz. We've seen it happen far too often: rising talents who, despite promising beginnings in research and experimentation, subsequently reveal their true colors, preferring to stick rigidly to the rules that guarantee them popularity and fat grants while disposing of the original purity.
Other performers manage to develop distinctive styles of expression and communication that, while generally not excluding any potential listeners, preserve the ideal balance of difficulty and accessibility. This is typical of open-minded musicians who, decades of practice notwithstanding, are still eager to collaborate and learn. Christoph Gallio, a Swiss reedist who always seems to have complete control over his compositional and improvisational skills, fits in this category without a doubt.
With Gerry Hemingway on drums and Silvan Jeger on bass, Day & Taxi — a 35-year-old project whose personnel changes are well known to connoisseurs of Gallio's output — has in recent years acquired a fruitful stability. The pair effectively counterbalances the soprano, alto, and C-melody saxes of the nominal boss, becoming "equal on-the-spot composers" rather than appearing and sounding like a mere rhythm section, as they seamlessly integrate into the collective phrasing with the right degree of space and freedom to remind everybody of their individual personality within the trio's bigger perspective.
You get the chance to comprehend and celebrate Day & Taxi's unwavering persistence in defying any simple stylistic categorization in this recording, which took place at Stadtbistro Isebähnli, Baden in November 2021. When switching between straightforward but effective vamps, cues of even quite complex free, and then back to contrapuntal passages at once intelligible and refined, Gallio, Jeger and Hemingway continue to delight us as they have done since we were a little younger. As they understand each other instantly after having sussed reciprocal intentions with eyes closed, the inner security transmitted by someone who can be trusted to produce intelligent, vibrant sound also reaches those who listen intently. In an era of pale looks, shrinking minds, and shallow music most everywhere, it is not a small amount of health.
Comments and Feedback: