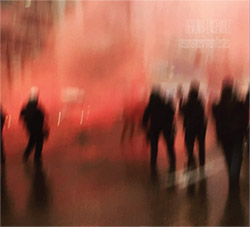 Dense and at times overwhelming, this disc by the ten-strong Devenir Ensemble utilizes field recordings of mass demonstrations in Montreal as a score upon which to hang their collective comprovisations. Helicopters flit atop harmolodic funkiness, queasy chords slither underfoot and crowd swells join in waves of circus-effect throat warble. Apparently, an awful lot of preparation went into the endeavor, including a "sound study on the acoustic ecologies of demonstrations...and the organization of a series of training workshops focused on the collective perception of sounds". Sounds like fun.
The music changes frequently in mood, from sparse underpinnings and eerie washes of chordal sweep to angsty jitters and evocations of unrest. Some bits were most likely composed, as themes emerge and get passed around like instructions. At times things erupt suddenly and kick up a ruckus as the crowds' emotions get the better of them. It reminds me a bit of trying to provide a live score for a silent movie, except this film is only in the players heads and ears.
The recording qualities of the music and the field recordings are well-matched, making it seem like these players could actually be part of the demonstrations, and I think that's a big part of the appeal here. Instead of being an imposed and unrelated soundtrack overlaid on our shopping or office experiences, these short pieces show how live music can interact and connect with the fabric of living. Sirens and dogs with your accordion and cello. Why not?
Comments and Feedback: