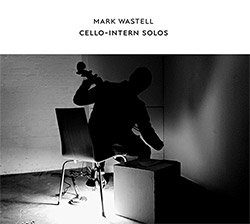 Mark Wastell has been recording since the mid-90s, initially in large part as a cellist, eventually moving on to percussion (especially the tam-tam) and electronics. The range of music he engages in is quite wide, from the reductionist aesthetic of +Minus (with Bernhard Günter and Graham Halliwell) or The Sealed Knot (with Burkhard Beins and Rhodri Davies) to the more drone-oriented approach of Oceans of Silver and Blood (with Joachim Nordwall).
Recently, after a chance encounter with some of Scelsi's string quartet music, Wastell felt a desire to re-listen to the contemporary string music which had been a major part of his earlier years and, in turn, to re-engage with aspects of his cello. This eventually took the form of an event situated about midway between a practice session and a concert — he would play, alone, in the public space at London's Hundred Years Gallery, open to anyone who ventured in, but would face a corner of the room and investigate aspects of the cello he'd neglected for quite a long time. As he put it in an email to this writer, "No reductionist stuff, no white noise, no pizzicato, no drones, no percussive effects." The disc at hand is the first recorded artifact of this process though, as of this writing, it continues to be an ongoing project.
For these sessions, recorded between February and May of 2022, Wastell limits his approach to arco, operates within a densely occupied space at a relatively high dynamic level and offers nothing very close to what might be considered as traditional melodic content. Given that there are seventeen shortish tracks, ranging between about a minute and half and seven minutes, this can result in a fairly intense, possibly claustrophobic experience for the listener. But one really must engage with this recording in a different manner than most, perhaps simply dealing with it for what it is, at least partly: a kind of practice session, one that you happened to walk into. Listened to carefully, you realize that Wastell is varying his attack greatly, albeit within a fairly delineated area and, more, that he's discovering all sorts of creative and eerily beautiful soundscapes. You hear a serious investigation of one of those niches that might appear narrow at first glance but, in the hands of an able guide, reveals many fascinating aspects. Wastell does vary his approach, allowing the sounds to dissipate here, well up there, but the overall sensation is one of dense, purposeful and often strident activity. No individual track really stands out. Rather, one is presented with a set, more accurately a subset of possible ways to deal with certain issues. If the listener can come to Cello-Intern bearing this in mind, they will be rewarded with a glimpse at the inner workings of one extremely serious and creative musician.
Comments and Feedback: