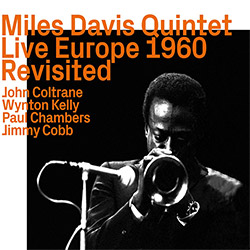 The excellent liner notes to this release of tracks from the Miles Davis Quintet's tour of Europe early in 1960 point out what is clear from listening to the music: the band that made so many great recordings in the 50s was in a state of crisis and Davis and Coltrane were ready to part ways, which subsequently served the development of modern jazz.
The notes point out the reluctance that Coltrane had in signing onto the tour, as well as how divergent Miles and Coltrane had become one from the other in terms of musical directions...directions which went on to shape two major strands of mainstream jazz in the 1960s....namely the experiments with funk and rock the trumpeter went for, and the sheets of sound, ecstatic and urgent state of the tenor man most close in spirit to the avant-garde.
Caught in the crossfire, so to speak, are the rhythm section of Wynton Kelly, Paul Chambers and Jimmy Cobb. They hold their own pretty well, though, staying themselves, despite being propelled and perhaps puzzled by the music goings-on, as jazz was entering a turbulent phase. Kelly plays some bluesy choruses and Chambers and Cobb do what they're good at, but it is the duo horn front line that is most startling to hear. Miles Davis's mostly post-bop inflected minimalism contrasts with Coltrane's effusive and irrepressible energy as he spins chorus after searching chorus, pushing the boundaries of the harmonies to places much of the audience is audibly excited by, and he gets stronger post-solo applause than the leader, who, to his credit, stays who he is, nonplussed although one imagines possibly puzzled by his sideman's journey.
The tunes played are no surprise....standard fare from the quintet's book... "On Green Dolphin Street," "Walking," "All Blues" and two different versions of "So What," one recorded in Paris on May 21, 1960, the other in Stockholm on March 22, 1960. Surprising is the tempo of "So What" in particular: no longer the laid back modal piece, it's more in a hurry and blustery. Coltrane is particularly long-winded on these tracks, and the contrasts mentioned above are most evident.
This is a historic moment captured on tape and a significant document of one segment of a pivotal period in modern jazz.
Comments and Feedback: