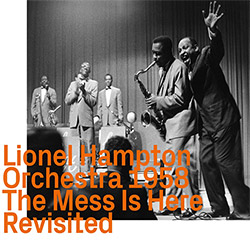 There is something so comforting about spending time with a Lionel Hampton album. Attending a performance was very similar. The music was beautiful, engaging and fun, and you could always count on wonderful playing from everybody on the bandstand. This 1958 recording, made on the band's 1957-58 European tour, perfectly exemplifies the congeniality and excitement the band could generate.
This Stuttgart performance opens with the rollicking title track, what annotator Mario Schneeberger aptly calls a riff number, but it has all of the traits that make a Hampton gig so special. The band is relaxed and totally swinging. Dig those call and response passages at the end where the band kicks the music up to the next level. "Hamp's Boogie-Woogie" glides and lopes forward in a similar way, and Hamp's two-finger keyboard solo is just a joy. Even in these perpetually popular numbers, there's something to tickle the ear, like the tune's ending in A-flat rather than in the original key but only after some more magnificently powerful full-band riffage.
The leader always knew how to pick his soloists, and that certainly applies to Cornelius "Pinocchio" James' shout vocals on "New Orleans Woman." You can hear homage to Joe Williams and Jimmy Witherspoon, who composed it eight years earlier, but there's more than a little rock and roll along its romping trajectory. On an entirely different plane, we get a bit of the Avant-Garde opening this wonderful version of "'Round About Midnight," presumably from pianist Oscar Dennard, who also contributes an arrangement of "Confirmation." There's some bop in his ensuing solo, but Monk also stands in the wings, his personality making itself felt through fragmentation and an astonishing rhythmic precision. Then, there's Hamp himself. Listen to his gorgeous solo on "My Prayer," Opening with two octaves, it then eases into some slowly grooving chromaticism, blues-ily incorporating scale, tremolo and arpeggio with such an effortless grace that the devices fade into perceptual background as the band gently punctuates; it's a really wonderful arrangement.
If I had to pick one track that summed up the album, it'd be "Flying Home," another Hampton favorite, it's a slow burn and build, complete with that fabled 1942 Illinois Jacquet solo in full-section transcription. The way Hampton's solo and Dennard's piano responses play into that slowly evolving crescendo is a thing to behold, as bassist Julius Browne and drummer Wilbert Hogan hold it all down, an encapsulation of all the great qualities this band displays in a relaxed but focused set.
Comments and Feedback: