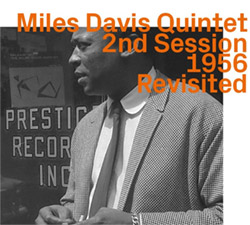 The twelve tracks here comprise everything that was recorded at the Rudy van Gelder Studio in Hackensack, New Jersey, on Friday October 26th 1956. The quintet in question consisted of Miles Davis on trumpet plus John Coltrane on tenor saxophone (who had joined just over a year before), Red Garland on piano, Paul Chambers on double bass and Philly Joe Jones on drums. The album title refers to the 2nd session 1956 because earlier that year a session, with the same line-up, at the same venue, had taken place on Friday May 11th, producing fourteen tracks. Both sessions were for the Prestige label and most of the tracks were first released on the so-called "apostrophe quartet" of Davis albums Cookin', Relaxin', Workin' and Steamin', particularly the first two of those albums for the October 26th tracks.
One of the reasons those two sessions produced so many tracks is that in 1955 Davis signed to join Columbia (he first recorded for them in October 1955); his contract with Prestige expired in 1956 and required four more albums, so he was racing against time. Another reason is that Davis thought the most creative, dynamic solos usually happened in the first take, so his philosophy of recording was to have no second or third takes, just one. As a result, this album has none of those out-takes or breakdowns which some reissues feature as 'bonus tracks', just straight-ahead versions of its twelve pieces. Those pieces covered a broad, eclectic range which included show tunes such as Frank Loesser's "If I Were a Bell" from Guys and Dolls, Rogers & Hart's "I Could Write a Book" from Pal Joey and "My Funny Valentine" from the 1937 Babes in Arms, to compositions by Davis and his contemporaries such as Eddie 'Cleanhead' Vinson's "Tune Up", Benny Carter's "When Lights are Low", Sonny Rollins' "Oleo" and "Airegin", Thelonious Monk's "Well You Needn't" and "'Round Midnight", Red Garland's "Blues by Five" and Davis' own "Half Nelson".
Straight from the beginning of "If I Were a Bell", Davis' trumpet solo, with its distinctive Harmon mute sound, grabs the attention as it did back in the fifties; that solo is followed by one from Coltrane which is very different to the trumpeter's but just as captivating. In turn, Garland and Chambers prove themselves equally adept at soloing while subtly propelling the piece forward with Jones. Davis returns for another fine solo which closes the piece perfectly. Altogether, the quintet display the tightness and mutual understanding which comes from playing live together; from autumn 1955, they had regularly played gigs at Birdland and Café Bohemia in NYC, and Sutherland Hotel in Chicago. Across the twelve tracks, it is impressive how consistent all five are and how close-knit, with each of them contributing to the overall feel. As Brian Morton's sleeve note concludes, "What happened at van Gelder's on October 26th 1956 is one of the great performances of modern jazz. Surrender to it."
Comments and Feedback: