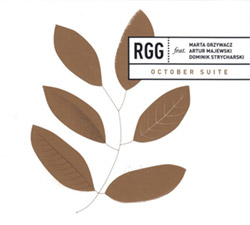 RGG is the trio of pianist Lukasz Ojdana, bassist Maciej Garbowski and percussionist Krzysztof Gradziuk. They already gained some international attention with their 2017 release Live @ Alchemia, on which they were joined by Evan Parker. Recorded at the Ad Libitum Festival in Warsaw in the darker pandemic days of 2020, this album, October Suite, finds them turning back to the local (or at least national) scene, joining with vocalist Marta Grzywacz, cornetist Artur Majewski and blockflautist Dominik Strycharski. Majewski and Stycharski also contribute some ambient electronics.
I am tempted to say this is standard (read: high standard) free improvisation from a scene that, admittedly, has quickly established itself as one of the premier in Europe. Indeed, much of the music follows the rise and fall structure that many extended pieces (here in seven parts): the gathering, the moments electrical eruption, the return to the dark yet charged mist, the gusts and repeat. Obviously, that does justice neither to the inspired October Suite nor the countless groups who have been exploring the nuances of those structures for decades. It is, however, a furrow that this release might have fallen into were it not for three guests, especially Grzywacz and Srycharski.
The core RGG has been together for nearly two decades (with the notable replacement of original pianist Przemysław Raminiak with Ojdana in 2013) and that history together is unmistakable in this performance. More often than not, Ojdana, Garbowski and Gradziuk play as a coherent unit, laying the foundation and driving each section forward from the base. This is especially notable as this music is not rhythmically or melodically driven. Instead, it is propelled by the ebbing and flowing of a simmering energy that ranges from the dramatic to the cartoonish, wherein the music sounds like crossed radio signals scampering to be heard above each other. The first three parts sound as if the sextet is finding its sound, briefly fiddling with different motifs and combinations only to quickly turn to new ones. By Part 4, the group finds their groove. This is the first long piece and the RCC core lay some romance and drama fitting for ECM, though with a little more edge. About halfway through, the sextet comes together in a blustery crescendo that leans toward a blow-out. Through it all, however Grzywacz's incantations and Strycharski's flutes add an earthiness and atavistic element that keeps this piece grounded. Pars pro toto, this is the trend of much of the rest of this release: sympatico base structures (and one especially dulcet duo between Ojdana and Majewski) that lead to periods of turbulent sorcery. Though, in the final piece, this swishing push-and-pull gives way to an extended crescendo that breaks from a melancholic opening into an outburst of plodding but potent defiance. It is an absolutely beautiful way to conclude an already mesmerizing set.
Comments and Feedback: