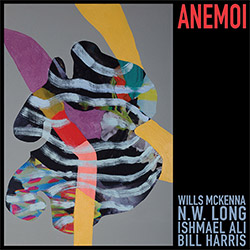 Anemoi is the brainchild of cellist Ishmael Ali and captures the first meeting of the quartet of Chicago-based saxophonist Wills McKenna, drummer Bill Harris, electro-sound artist Norman W. Long and Ali himself on cello.
The result is a fine (and refined) blend of experimental improv. As the instrumentation suggests, the music is rooted in jazz, and really in the quiet, open-improv corners of the style. The hush of it and the repeating phrases — often introduced by Ali — also point to contemporary classical influences. Meanwhile, Long's delicious panoply of ultra-rich, finely textured sounds stand alternately as beep-and-flutter sonic collaging and, when coupled with the deliberative and restrained but rhythmic patter of Harris, minimalist, glitchy trip-hop beats. Add to this the whirling, intertwining scales, often with McKenna whispering his way through Ali's yielding strings, and the result is as mesmerizing as it is strangely satisfying.
These two discs get stormy at points, but even then the gusts are not overwhelming (though some of Long's more piercing tones in the first track hit the limits of what my ears can handle). And that concerted restraint is where Anemoi's power lies. The quartet never really breaks out or breaks ranks. Despite solos, none of these musicians strays too far from that slowly churning, laid-back center. Instead, they gravitate around a short-circuiting nucleus that never quite jolts out of alignment. Anemoi is nervous at times and head-bobbing at others. Through it all runs a low-lying energy that hints at entropy but which these musicians expertly and collectively harness and deploy toward some truly fascinating ends. This album might be the most exciting I have heard yet from 2022.
Comments and Feedback: