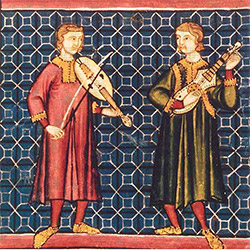 Johnny Chang's name has been preceded by the label "Berlin-based" for years, and he previously lived in Los Angeles, so his New Zealand roots tend to be overlooked. This album should help remedy that. It was recorded at the MacLaurin Chapel, Auckland, in July 2021, some months after Chang had returned to New Zealand; that move also coincided with him refocussing on the violin, his first instrument, after a long period of building his listening around the viola, a shift inspired by his meeting American violinist Keir GoGwilt who was on a year-long visit to the country. The two connected and in February 2021 began meeting every week to play together.
Although each of the two is credited as composing three of the album's six tracks, the pieces were actually collaborations arising from their weekly meetings; furthermore, in those meetings they explored medieval and renaissance music by such composers as Orlando di Lasso and Hildegard Von Bingen and plainsong from the Cantigas de Santa Maria. As their studies explored imaginative and expressive ways of re-approaching such historical music, it seems proper that Chang and GoGwilt are credited as the composers of the end products rather than the original composers. In that regard, this music is similar to some of Marcus Granberg's for which he employs older tunes as inspiration without plagiarism.
The opening three tracks, which total just over twenty-seven minutes, feature the two violinists together but never both playing the same line; throughout, the lines they play fit together and complement each other perfectly, suggesting that they were developed by the pair during those weekly meetings. The music sounds contemporary enough that a blindfold listener would be doing well to identify its original composers. In an inspired move, the album's closing three tracks, totalling forty-seven-and-a-half minutes, add the voice of GoGwilt's partner composer Celeste Oram alongside the violins. Her voice is never to the fore or intrusive, yet her subtle vocals expand and soften the soundscape while being an ideal complement to the violins. Should Chang and GoGwilt consider recording together again, the inclusion of Oram would be an obvious choice. Meanwhile, as a whole this is a beguiling album which stands up well to repeated listening.
Comments and Feedback: