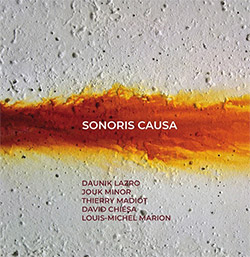 Certain albums literally bring me to my knees in terms of reviewing ability, to the point where I have to concentrate exclusively on them in an effort to convey their deeper meaning. In the case of Sonoris Causa, the "stuck-on-this-CD" crisis lasted for over two weeks. There was a need to identify precisely what, in a 66-minute span, keeps together components that are difficult to maintain in a condition of logical and auditory orderliness. Still, an attempt must be made to at least provide the readers with some elements, even though I doubt I've yet been able to crack the equation.
This writer's mnemonic deterioration left only one of the five French musicians, baritone saxophonist Daunik Lazro, intact. Whereas I had to look through the archives to recall that bass trombonist-cum-telescopic tubes player Louis Madiot, and double bassists David Chiésa and Louis-Michel Marion (both playing 5-string versions for the performance) had previously collaborated with Lazro. The handler of a fascinating ancient machine that led to legal disputes between its manufacturer and Adolphe Sax, who believed the instrument was a subpar imitation of the one he invented, was the sole name completely unknown to me until now. Jouk Minor, on the contrabass sarrusophone, is that person. Never too late to learn, as they say.
Although the main goal of this sustained improvisation was to create "a sculpture of sound" by fusing timbres rich in low frequencies, there's more to it than that. The competitive spirit of the instrumental voices persists throughout, a definite harshness manifesting itself across different spectrums. The paired double basses can also stab the treble horizon with shrieks and squeals in addition to growling and droning. One wouldn't expect to hear overly acute sounds from the baritone sax in such a scenario, but they do emerge at the appropriate junctures. Trombone and sarrusophone unquestionably add muscle to the thunderous quintet's body. The search for melodic cues, however dissonant, is generally interspersed with a mildly threatening ebullience.
Rather than a real discourse, this music conjures a meeting of souls attempting to express inner agony, and cathartically expel that which is never truly acknowledged. Because of this, Sonoris Causa's most distinguishing qualities are its jarring honesty and lack of endearing smiles. The rest is managed by the players' practical dexterity and extreme responsiveness to the spur of the moment, so the audience's focus remains on trying to come to grips with the ensemble's un-cosmetic aesthetic.
Comments and Feedback: