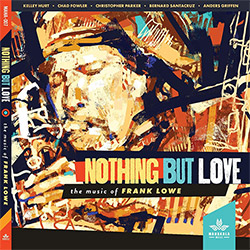 A pioneering Free Jazz tenor saxophonist, Frank Lowe (1943-2003) was never an avatar like John Coltrane. But this group of exploratory players honor the Memphis-born saxophonist's memory in the best way — by not replicating but playing his compositions in their own ways.
"The Flam", his best-known piece, is one of the liveliest on the disc. A stop-and-go variant, it's energetically prodded by saxophonist Chad Fowler's horizontal vibrations and elevated chording from Chris Parker's piano that at points almost attains honky-tonk patterning. Bassist Bernard Santacruz and drummer Anders Griffin, a long-time friend of Lowe's, keep the energetic theme moving, with the head repeated throughout and reprised at the end.
Coltrane's ghost also looms over the session with the band recording two versions of "In Trane's Name", the latter more ferocious than the first. The reason is that Bobby Lavelle adds his tenor saxophone tones to the band. That doubles the amount of reed overblowing strangled screams and altissimo cries available. The expansive result gives as much space to the rhythm section, especially passing piano chords and drum pounding. Plus vocalist Kelly Hurt's integrated yodels and cries have more scope in which to harmonize.
The band's two versions of "Addiction Ain't Fiction", also confirm that The New Thing was not all Sturm und Drang. A bouncy tune with shaking intervals, the second variant is characterized by Hurt's exuberant scatting and the first by Griffin's adroit drumming which cycles through steel drum, swing and Latin suggestions, as hard piano comping and reed mulltiphonics confirm its modernity and originality.
Despite working with the likes of Billy Bang, Lowe was too often under the radar during his lifetime. Notable on its own, perhaps this set will encourage more people to check out the tenor saxophonist's own recordings.
Comments and Feedback: