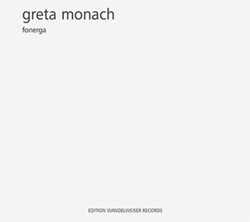 In an accompanying note, performers christopher butterfield, Cathy Fern Lewis, Laura Brandes and Daniel Brandes discuss their collective decision to include Greta Monach's "Analysis 78-3," even given its use of the word "Eskimo." The sentiments expressed speak to an admirable take on decolonization, but the vocalists also acknowledge the spirit of fun by which the piece's meaning can be construed. This is a disc replete with fun sporting some depth, sound poetry that was obviously as much fun to make as it is to hear.
The brief biographical sketch on Wandelweiser's site is an imperative read, or at least it was for me. I had heard neither of the composer nor of her Fonerga, the notated sound-poems that Monach (1928-2018) refused to label music, insisting that they not be performed in a musical context. Let's celebrate the conceit by acknowledging that they're now on a label whose catalog is chock full of similarly musical non-musical events. In fact, one of my favorite entries in that venerable catalog is the ten-hour Empty Words, which shares some superficial characteristics with Monach's phrase-and-syllable constructive deconstructions, at least on the structural level. "Fonergen 85-1" tic-tocs and "kitikitikiti"'s its way through a series of convergences and divergences that become more apparent as it progresses, and that's only part of the picture. What finally seems to happen is, despite Monach's wishes, quite musical in that the syllables proceed in all kinds of inversional relationships, following a rather elaborate dynamic scheme with rhymes to match. What at first brings a smile proves hypnotic and disturbing by turn. The contrast with "Fonergen 78-1" couldn't be more stark. Reminding me of the chaotic climax of Pink Floyd's "Jugband Blues," there is a level of vigor, nearly inelegant, conjuring shades of childhood games. Maybe that's why Syd Barrett kept coming to mind?
What is it about the human voice channeled in this way that can articulate the inarticulate? Whatever it involves, this quartet of vocalists taps into it. As large-scale repetition supplants those structural moments of disjuncture, they invest each sound with the wonderful vagueness after which any narrowly defined concept of meaning would be an insult. Call it what you like. I'll call it music, the type that only the best poetry in the finest performances can offer.
Comments and Feedback: