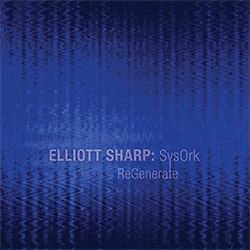 The first picture I, as a young enthusiast, ever saw of Elliott Sharp came from a Guitar Player article about experimental guitarists. My curiosity was piqued by the unique physiognomy of a shaven-headed man harnessing a self-made "stringed thing" while sitting on the floor. Over decades since then, that dangerous monk has repeatedly provided us with stimuli for exercising a type of listening decidedly not conforming to the so-called norm. He also attempted to inculcate audiences worldwide with the acknowledgment of commonly known dissonance as a fundament of evolution.
Sharp's own inquisitiveness has driven him down paths seemingly at odds with each other, but in fact thoroughly interconnected. The logical synthesis of those quests lies in the biotically advanced variety of his scores. Warranting a considerable degree of interpretative liberty to aptly gathered ensembles, some of them represent — to quote the composer's notes to "Foliage" — "a piece of retinal art as much as it is an instruction set for sound, form and function interlocked".
The compositions that make up ReGenerate were recorded on March 4, 2021 at New York's Roulette for the E#@70 series, all four premiering that evening. SysOrk's lineup consisted of Lea Bertucci (alto saxophone), Shayna Dulberger (contrabass), Rachel Golub (violin), Terry L. Greene II (trombone), James Ilgenfritz (contrabass), Judith Insell (viola), Margaret Lancaster (flute), Ron Lawrence (viola), Payton MacDonald (marimba), Chris McIntyre (trombone), Danny Tunick (percussion, vibraphone), Weasel Walter (drums), Nate Wooley (trumpet). Sharp performed on bass clarinet and a Strandberg 8-string guitarbass, besides conducting.
By focusing on the opening "Viridia" the connoisseur immediately recognizes the rhythmic fracturing and massive overlapping of fragments and cells typical of Sharp's most rewarding output. In a way that is still inexplicable, the progressionist contrapuntal ferments of this piece initiate streams of uncontaminated beauty, closely connected with concepts of force and variegation.
The same can be said of "Feedback 21", beginning in a somewhat minimalist mode to gradually build into a veritable symphony of diversity, all pitches embodying cues of expressive innovation within an admirable collective intelligence. This is perhaps the spot where the droning integrants of Sharp's music are best appreciated. They appear, like everything else, as necessary stages during processes of remote origin, in which instinct and brainpower play equally important roles.
While both aforementioned episodes are based upon algorithmic scores, it should be reminded that Sharp's compositional skills are matched by his ability as a multi-instrumentalist who can, if so decided, ruthlessly alter normal timbres via computer processing and/or electronics. In the solitary "Oksugenos" this is applied to the bass clarinet, persistently morphing between its original tone and a version dissolved in acid and poured into a centrifuge. If that's not enough, let me detour for a moment and point your ears to the exhilarating "Augury" (on Carbon's Datacide) for yet another example of how a mere wind instrument can transmute to a bunch of jibber-jabbering Gizmo punks.
In the title track, the CD's longest segment at nearly 29 minutes, the musicians follow an animated graphic score. They draw from their individual baggage what's needed for a delineation of Sharp's vibrant resourcefulness. The sounds range on all fronts, from discharges of radical intensity to freeform chamber, from precise details and measurements to "indeterminate activity of resultant masses", as Glenn Branca would have it. Heterogeneous components intertwine in ways too complex for instantaneous decoding; but, again, it's the spontaneous generation of ramifications and flows inside the whole that turns into genuine richness.
One should take very seriously the (often involuntary) teachings of a sonic researcher who has used elements of fractal geometry, chaos theory and genetic principles for some of his past electroacoustic experiments. Plus much more, not describable in the space of a review but definitely assimilable by reading the excellent autobiographical volume IrRational Music (Terra Nova Press), an absolute must for any serious student of E#'s artistic vision. In the book's introduction, the Inner Ear is described as "a place to both reflect on the perception of the world and invent what sound could possibly be: a soundtrack to the utopian". The diligent preservation of that place is mandatory for all of us.
Comments and Feedback: