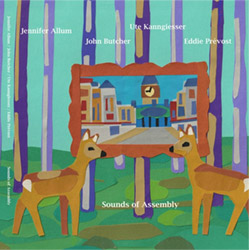 This album was recorded in April 2013, at Addey & Stanhope School in Deptford, London, the grammar school which drummer Eddie Prévost attended as a child, on a state scholarship. It ties in with an excellent short documentary film, entitled Eddie Prévost's Blood, which includes footage of the recording at the school. (That film can be seen on YouTube.) The film and album feature Prévost with saxophonist John Butcher, violinist Jennifer Allum and cellist Ute Kanngiesser. As such, this quartet brings together two of the most notable strands of Prévost's illustrious career, AMM which was formed in 1965, and his weekly Friday evening improvisation workshop which began in 1999.
In 2008, Butcher recorded the Matchless album Trinity with the edition of AMM that just consisted of Prévost plus pianist John Tilbury, and the three recorded Sounding Music (Matchless, 2009) as AMM with Christian Wolff and Ute Kanngieser included too. Butcher and Prévost have also recorded two duo releases for Matchless, and Butcher has been featured on one of that label's "meetings with remarkable saxophonists" series in a trio with Prévost and bassist Guillaume Viltard. For a number of years, Allum and Kanngiesser were regular attendees at, and mainstays of, the Friday evening workshop; although they were both classically trained, their time at the workshop saw them develop into first rate improvisers with none of the rigidity which can sometimes mar the improv playing of some classically trained players.
The combination of Butcher and Prévost with the two stringed instruments was an inspired one which broke new ground for all concerned. Across the album's five tracks which total just under forty-nine minutes, all four play together as equals. The contributions of them all can be clearly heard throughout, with each playing sympathetically and obviously being tuned into the contributions of their bandmates. As such this album is a credit to all concerned and is wholeheartedly recommended to all afficionados of improv.
Comments and Feedback: