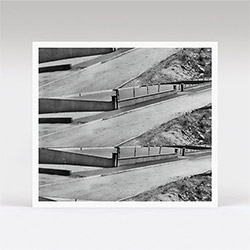 Using the sophisticated microtonal improvisations of French saxophonist Michel Doneda as inspiration, Austrian composer Daniel Riegler amplified, spatialized and synthesized these reed sounds as the interactive basis for this performance by Vienna's 16-piece Studio Dan. Riegler, who also conducts, makes Doneda's soprano and sopranino timbres the in-person fulcrum upon which the strings, woodwinds, brass, percussion and electronics react during this electro-acoustic achievement's seven sections.
Hardly sensed at the top where angled string stops, fluid double bass pulsing, bugling brass and reed snarls dominate the aural space, Doneda's triple-tongued tones, dissected timbres and aviary squeals become prominent during "Black", the third sequence, as they float above the ensemble. Diffusing these reed adaptations into the defined narrative, expanded with col legno string scratches, percussion clanks and bent woodwind notes, Studio Dan bounces and sways into "Spektral", the suite's extended centerpiece. The ensemble's textures coalesce into a near solid mass, with harsh string slices and kettle drum smacks prominent. But it's Doneda's initially unaccompanied circular breathing and flattement during the subsequent "Elektro", which not only display his inventive theme variations, but also make clear the bonding continuum from processed electronic and sound spatialization crucial to the suite's evolution that the ensemble provides.
"The End", the suite's concluding stop-time sequence, provides telling evidence of how each of the band members' reactive playing has adapted and amplified the saxophonist's influences within Riegler's composition. Doneda's brief and triumphant final trill is a confirmation of his role.
Comments and Feedback: