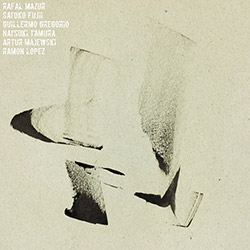 These four discs were performed and curated by bassist Rafal Mazur, and should the title intrigue, his liner notes, available online, will double the anticipation. He is the unifying factor, but each of these studio and concert recordings (disc three) finds him solo or in the company of other excellent improvisers. He's heard in duo with clarinetist Guillermo Gregorio on the second disc, with trumpeter Artur Majewski on the third and in a quintet with Gregorio, pianist Satoko Fujii, trumpeter Natsuki Tamura and drummer Ramon Lopez.
While the credits insist that Mazur plays acoustic bass guitar, you wouldn't know it from the sound. I have never heard a bass sound quite like this, as amply demonstrated by the two long pieces comprising the first disc. Each disc has a subtitle, this one being Beyond the Five Notes, and Mazur's sinewy-soft sounds opening the second track speak to that description. He's bowing, that's certain, but it all resembles some combination of wind in the trees and industrial cityscape more than anything "in the tradition." What is really astonishing is the way each pitch, if that narrow appellation is even close to accurate, leads to and from its surroundings. They're more like sonic complexes, statements in and of themselves inhabiting a language system of rapidly morphing muttering, growling and rasping that occasionally cross the line into identifiable sonority. If Mazur hasn't recorded with Tony Oxley, he should, as they thrive on similar non-repetitive aesthetics. Are their effects in play, maybe a bit of reverb on the first track, delay and other manipulations throughout? Whatever is actually causing the sounds to manifest as they do, it's all great fun.
The second disc, The Strongest Blows are Light as a Feather, finds Mazur in passages nodding slightly more toward convention, especially on the fourth piece. He and Gregorio lay down counterpoint as much indebted to free-bop as to the Euro-Classical vibe on some of Gregorio's other projects. Of course, they don't stay there, and by the 10th minute, they're bandying about rasp and skronk, forming ensembles seemingly larger than the duo only to discard them. It's a joy to hear them hit together, as they do on the fifth piece's opening, just as it is when Majewski and Mazur engage in light-hearted back-and-forth on Water Flows from Above To Below's third piece. This duo revels in executing the hair-pin dynamic turn, and they do it with precision and humor. Listen out for Majewski's Bill Dixon impression at 2:56, as he cops the late trumpeter's low notes. The fourth piece shows that the duo is not averse to a drone-and-trill fest, and, as Richard Pryor used to say, "it's deep too!" Gesture for gesture, they rival the telepathic communication of the landmark 1960s improvisers, especially in the second piece, no mean feat in a crowded market of expert musicians.
Everything has been leading up to the concluding disc's quintet, which does not disappoint. The Wind Creates Great Harmony, proclaims the disc's title, and there is something sustained and cumulative about the broad opening gestures, especially Tamura's windy interjections! In these opening minutes, all take on the dual roles of respectful listening and collective engagement, but everything heats up by the second track's inauguration. Would that we could hear Fujii more prominently in the mix, but this is remedied by the fourth piece, where her customary piano preparations cut through the gusts and gales. Moments of extraordinary beauty, like Gregorio's solo opening the fifth piece and the subsequent group pointillism, stand in contrast against this unified backdrop of rolling crescendo of evolving tonal center. Lopez's work on the concluding vignette is particularly fine in its transparency, bringing a superb set to a worthy conclusion.
Comments and Feedback: