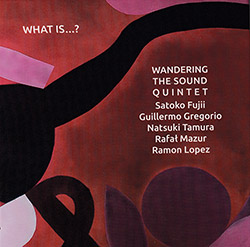 In 2018, clarinetist Guillermo Gregorio, bassist Rafal Mazur and percussionist Ramón López released a trio album in which they proved remarkably able to channel and sublimate explosive energy via the miniature; the album is a beautifully captured foray into spontaneous composition. In 2019, that trio was augmented, for a concert recording, by pianist Satoko Fujii and trumpeter Natsuki Tamura. The results are both what should and might not not be expected when that Protean trio dynamic is ratcheted beyond itself, thanks to the seriocomic intrusions of a duo guaranteed to shake it up all along the path of instantaneous discovery.
From Tamura's first high-register volatility only a few seconds into the epic and appropriately named "...Sound," the already complex universe created by the three expert improvisers cracks at the seams. Then, at about the minute and a half mark Fujii achieves the impossible, or so it seems. What words will describe, with anything approaching adequacy, the sudden burst of interlocking wedges of ascending and descending scalar super-sweep, tones and chords jutting out of it like Bartok's bone and muscle? Like an earthquake presaged by Tamura's fissure-inducing exclamation, the whole suddenly becomes a multilayered issue of parts and sums. Gregorio asserts strength after that seismic shift only to be met with silence. The ensuing groove Lopez and Mazur lay down is both retrogressive and necessary for balance, Gregorio's microtones ornamenting it all before silence ensues again. The path is becoming clear; the preceding year's miniatures have been subsumed into the larger form to follow, which it does with a wonderful mixture of moods and timbres. The crystalline beauty at 7:48, as each instrument liquifies and is absorbed, complements the lines and coagulations five minutes later, set to the contrapuntal backdrop of Tamura's muted trumpet and Gregorio's clarinet before... Who's that laughing?
By the final track, things have become downright silly, and, most likely, Tamura's guttural evocations are culpable. However, before it all comes down with a mighty crash from Lopez, no amount of whimsical exchange can dispel the bittersweet moments of interplay between piano and clarinet, the majesty and magic as huge dynamic vistas open and are traversed, intimacies are achieved, and comradery is reenforced. This is not so much sonic wandering as discovering and charting new and simultaneously familiar territory. Smiles brought to the face, an occasional tear to the eye, and, finally, a sense of journey and attendant evolution all add up to a listening experience well worth having and repeating.
Comments and Feedback: