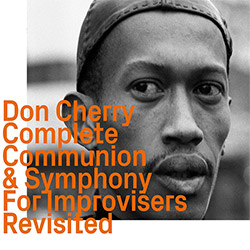 This one-disc album consists of Don Cherry's first two Blue Note releases, Complete Communion (1966) and Symphony for Improvisers (1967). The two together have a running time just under eighty minutes and were fitted onto a single CD by shortening the pauses between tracks. The tracks here are those from the original releases without any 'bonus tracks' as some re-releases feature. The album's remastered sound is first rate, with the basses in particular sounding better than on the Blue Note releases. Both original albums were recorded at the Van Gelder Studio, the first on Christmas Eve 1965, the second on September 19th 1966. On Complete Communion, Cherry's cornet was joined by Gato Barbieri on tenor saxophone, Henry Grimes on bass and Ed Blackwell on drums; for Symphony for Improvisers that quartet was expanded to a septet by Pharaoh Sanders on tenor saxophone or piccolo, Karl Berger on vibes or piano, and French bassist J. F. Jenny-Clark; yes, two tenor saxophonists and two bassists...
The album's four tracks were all composed by Cherry; each of them was originally one side of an LP, running for about twenty minutes. Although each track is sub-divided into four sections, there are no gaps between them and the transition from one to the next is subtle and virtually indistinguishable. Inevitably, given the differences between their ensembles, the two albums sound and feel very different. On Complete Communion, Cherry and Barbieri dominate and feed off one another, sometimes taking turns to solo, at other times soloing together or trading phrases in a call-and-response dialogue. Throughout, Grimes and Blackwell give a near-perfect performance which shapes and underpins the pieces, allowing the horns the freedom to roam far and wide. Although each of them is allowed space for their own solos, together Grimes and Blackwell are heard at their best. Perhaps the greatest compliment that can be paid to Complete Communion is that it does not sound composed even though it had to be — improvised music was never this free and tight.
In improvised music, there is a tipping point between small groups in which all the members can improvise together and larger groupings which require some organising principle to avoid anarchy or cacophony. In moving from the quartet to the septet of Symphony For Improvisers, Cherry seems to have been aware of that tipping point and taken steps to avoid it. Rather than the symphony suggested by the album title, Cherry's music more closely resembles the common jazz format of head plus solos, giving the music more structure than that on the quartet album and so avoiding the risk of chaos. As a result, the seven never get in each other's way or overload the listener. As on the quartet album, Blackwell and Grimes — now plus Jenny-Clark — do a commendable job without drawing particular attention to themselves. When the time is right, everyone gets to solo, with Cherry and the saxes being particularly noteworthy. Taken as a whole, this album will surely appeal to fans of Cherry's other work and to lovers of '60's free jazz in general.
Comments and Feedback: