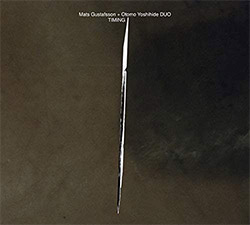 In the liner notes that accompany this CD, saxophonist Gustafsson (and for this outing, electronics manipulator) makes an extended point about timing and attitude, but the most forceful impression I got while listening to his duo outing with plectrist and turntable artist Otomo Yoshihide is one of masses of sound architecture. The CD's eight untitled tracks (only times are given) unfold in sheets and blocks, threads and filaments, splashes and drips, curves and corners and straight lines, the whole thing amounting to a multi-dimensional synesthetic experience. The timbres and textural elements of the music are part of a sensory mobile of sorts, shaping and reshaping itself through time. So timing is the thing that brings the music into being, but the material that results from the musicians' creative real-time interactions are much more than about timing alone and consequently much more complex.
In more simple and practical terms, one should point out that the textures of electronic sound and acoustic sound, fundamentals of contemporary music, are here balanced in an organic and aesthetically stimulating manner. The first three tracks have a strong electro-acoustic balance but the electronics get full throttled release in tracks 4 and 5, with bleats and blatts and twists and turns for the ear galore. But there is a contrasting return to full acoustic sound exploration, Yoshihide on banjo and voice and Gustafsson exploring extended possibilities of the baritone saxophone, pads and holes and reed infections, as well as some intriguing "flutephone" cooings and airy spurts.
A highlight for this listener comes when Yoshihide unleashes his Gibson ES 135 in the last two tracks, getting a marvelous analog hum while bell chimes electronically processed punctuate the sonic mass for a nice textural compositional effect. Gustafsson brings in some nice ducky sounds and balloon squeals from the baritone while Yoshihide does his 21st century shredding that magnetically draws the saxophonist into the vortex of inventive articulation that all meshes together in ecstatic abandon of a high order.
Comments and Feedback: