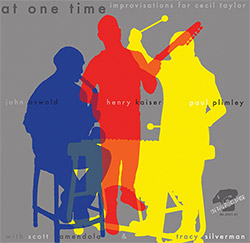 Without playing any of his music and with no piano on the session, this shifting group of Canadian and American improvisers devised a salute to Cecil Taylor's influence more profound than if they had recreated the sound of one of the pianist's Units. By improvising in their personal fashion(s), the three featured and two guest performers personify the genre-extending freedom Taylor brought to free music for more than half a century.
Inventor of Plunderphonics, alto saxophonist John Oswald, is also a committed improviser as part of Toronto's CCMC group and with others. Usually a pianist, Vancouver vibist Paul Plimley has worked with sound explorers like Joe McPhee; while Bay area guitarist Henry Kaiser has long etched a singular free-music strategy applicable to collaboration with players as different as Wadada Leo Smith and Steve Smith.
Following the scene-setting "Anagram Ritz Rewording" during which pointillist reed split tones, guitar string jabs and metal bar ratcheting bond, a guest on each of two lengthy tracks fully defines the group's aims. Joined by violinist Tracy Silverman on "Oceans Felons Salad", the 6-string fiddler's horizontal drone stretches out a continuum that is intermittently breeched by squeaky reed cries, knob and foot pedal distortion from Kaiser and ascending or descending vibe echoes. Interludes of mellow harmonics are attained, as are sequences where contrapuntal string flanges, reed yelps and arabesque tone showers from the vibes set up contrapuntal encounters between pairs of improvisers.
Kaiser's bass string pops that add rhythmic ballast, become more pronounced on "Fir Loom", when coupled with drummer Scott Amendola's backbeat. While additional heavy guitar thumps threaten to fuse the exposition into a rock direction, Oswald's snarling flutters and fragmented double tongued splatters untangle the narrative from simple program elaborations. At the same time Plimley's multi-tonal pulsations add free-form variations common in free music, but not more conventional forms.
Imitation may be the sincerest form of flattery. But on this disc the trio members plus guests demonstrate that personal interpretation of a master musician's influence is profoundly more significant.
Comments and Feedback: