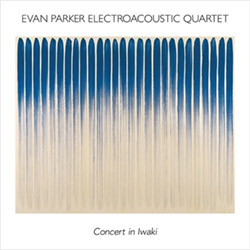 There is music that leaves you alone in that it requires very little effort to be around or walk away from. And then there is Evan Parker where, once he powers on, you're done doing whatever it was you thought important. Too compelling to ignore, Parker's music rips you from your grip and takes you on a tour through an intense neo-psychedelic, spiritual trip, regardless of the velocity of notes.
Throughout the 70 minutes of Concert in Iwaki (captured "in the resonant space of" Iwaki City Art Museum in Fukushima in October 2000), it's clear what Parker brings to this: Parker himself, which one reckons is both an intimidating and satisfying thing to have to maneuver around, process, compete, and cohabitate with, musically speaking. Human signal processors Paul Lytton (also on percussion), Joel Ryan and Lawrence Casserley capably take their centerpiece and provide everything from shadows to reconfigured textural blasts to doing the musical equivalent of levitating Parker into a higher atmosphere under which they fervently pump bellows. Meaning, the ancillary trio's sampling, resampling, transmogrifying chops allow them to nurture, say, a single two-note lick into a robust five-minute gesture — still definitely related to Parker, but which species...
For example, the introduction to track one ("Ichi") starts with a woody shamisen-like tone (when in Japan...) which Parker rolls around on his tongue to produce counterpoint, duos, harmonics etc. As his sound begins to grow, the rest of the band latch onto the passing squeaks, held tones, breaths, and clacks, evolving these specks into a new bionic, polyphonic instrument. What could be mangled VCR tape audio, plucked egg slicers, wind up mechanisms and otherwise metallic cacophony (presumably from Lytton's homemade noise rig) loosely strap in and add to the simmer. If you close your eyes, your head conjures up visions of peering into a fantastic globe held aloft by a sorcerer waving his arms; you know, the type where you see future events, or life from another dimension, or simply a clutch of banshees trying to pull you in?
There are so many moments whose marvel cause this listener to stop fidgeting and stare at the speaker, particularly when the already-hardcore Parker runs are made even more intense, dynamic, warped, supernatural, Hulk-like, and a bit more capable of violence i.e. the middle portion of "Ni," whose texture, colors and size resemble the internal shimmer of Debussy and the parts of Penderecki orchestral works where 48 instruments written in unison pivot from stasis to booming, lingering detonations.
While I can attest that a 45-minute solo soprano sax Parker set will absorb into every cell and nook in your body, remain there, and alter a person artistically long-term, Parker's ensemble work with similarly ardent players, especially in the "electronics" realm, is where the performance and practice of his own living legacy lie. Fortunately, Concert in Iwaki (and the other albums in the recent Parker reissues), provides the opportunity to experience this undisputable god engaged with cohorts who are in this case three high ranking deities and demigods.
Comments and Feedback: