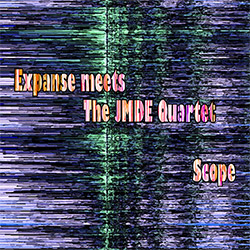 Per the man himself, PEK's Grand Aesthetic, his singular musical system, is designed to work with almost limitless configurations of musicians and instruments. His system has already been run through various arrangements, ranging from solos (including entire orchestras of overdubbed PEKs) to small and mid-sized ensembles to the massive Leap of Faith Orchestra. The system has often worked best, or at least most reliably, when stalwart collaborators such as Glynis Limon, Bob Moores, and Yuri Zbitnov have taken part in the projects. However, it really shows its promise and flexibility when musicians external to the already wide Leap of Faith universe enter the fray.
Expanse is a new group consisting of Michael Knoblach on percussion and and PEK on, well, everything imaginable. Add to that Eric Dahlman on trumpet and gong, David Wellans on flutes and piccolo, and Jimmy Zhao on a host of instruments of Asian derivation (erhu, hulusi, bawu, dizi, xiao, xun, tao di), and you have the combined Expanse and JMDE Quartet captured here.
Different instruments introduce different palettes of sound and new collaborators lead to new musical paths. Scope is a case in point for this claim, as the additions of Dahlman, and, maybe more notably, Wellans and Zhao bring an earthiness and numinosity to this session that is unique among Evil Clown's recent releases. On the one hand, wafting melodies pervade this release more than anything I have heard from PEK since his work with Raqib Hassan in the late 1990s. At the same time, this uncharacteristically hypnotic melodicism and earthy percussion (45 minutes in, when the ensemble really seems to settle in) evoke a ritualism his recent projects seem to systematically avoid.
Now, this release might not be a complete departure. The cosmic electronic effects remain, as does PEK's relentless push to explore different combinations of tones and timbres while eschewing hooks and repetition. Scope distinguishes itself as it stops short of the cosmic spaciness featured in the larger Leap of Faith ensembles, the heavy grind of Metal Chaos, or the tangled and windy torrents of Turbulence. Instead, the quintet turns its attention to the realm between the mundane and the supernatural and conjures a surprising euphony and sense of transcendence. (Just listen to how the heavy sirens dissipate when faced with a gust of echoing flutes and chirping scrapes at 53' to hear how this music explores that liminal space.) Scope, in other words, is alternately steeped in the Evil Clown aesthetic and a step beyond it.
Scope is likely to appeal to fans of previous PEK releases. Maybe more importantly, however, this one might even convince a few of those holdouts who have been looking for more tunefulness among the blasts and abrasions.
Comments and Feedback: