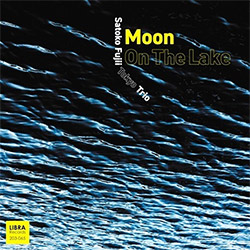 Pianist Satoko Fujii made the jazz world sit up and take notice during 2018, the year of her sixtieth birthday, when she released an album every month. Those twelve releases displayed the range of her music from solo playing, through various small ensembles, right up to two separate orchestra recordings, with some groups, such as the quartet Amu and a couple of new trios, being heard for the first time. Ever since, she has kept up a steady flow of impressive new recordings and collaborations. Recorded live at Tokyo's Pit Inn, in September 2020, Moon on the Lake is the debut of Satoko Fujii Tokyo Trio; it marks her first piano-bass-drums trio recording since Spring Storm (Libra, 2013) by Satoko Fujii New Trio with bassist Todd Nicholson and drummer Takashi Itani, that group's only album to date.
For her new trio, the pianist selected two in-demand younger players from the Japanese jazz scene, bassist & cellist Takashi Sugawa — with whom she had played some years before, along with her husband, trumpeter Natsuki Tamura — and drummer Ittetsu Takemura, who was a member of the pianist's Kira Kira quartet which released the highly praised Bright Force in her birthday year. As the bassist and drummer (not to mention the pianist!) are very busy, this trio had few opportunities to play together; they debuted at Pit Inn in August 2019 and played at the Tokyo jazz club Classics in the following December; remarkably, the recording that comprises Moon on the Lake was from their third date together.
Despite that, right from the start of the jaunty, rhythmic opening track, "Hansho", the three have an obvious rapport and sound right for each other, as if they had long experience together. They do not always sound like a conventional piano trio, as is made all too obvious by "Wait for the Moon to Rise", in which all three coax atypical sounds from their instruments which gradually gel into a richly detailed, coherent soundscape. At the heart of the album is a new eighteen-minute version of "Aspiration" the title track of a 2017 album which featured the pianist with Wadada Leo Smith and Natsuki Tamura on trumpets, and Ikue Mori on electronics; the version here is very different, with all three players individually showcased, notably some attention-grabbing arco from Takashi. The album ends on a high with the restraint of the title track highlighting some beautiful piano passages.
On the evidence of this album, we have to hope that this becomes the pianist's trio of choice. Existing fans of Satoko will find plenty here to keep them enthralled; newcomers, eager to know what all the fuss is about, can confidently begin their voyage of discovery here.
Comments and Feedback: