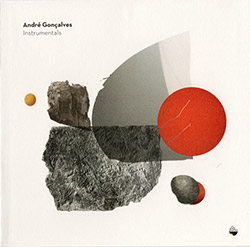 Ambient music and sound collages represent constructed and finely tuned sonic mosaics. These modes of sound manifest the idea of serenity. However, sometimes these pieces can become so serene that one becomes cognizant of their inorganic nature. Gonçalves' album does not fall into this problem. Instrumentals deconstructs the binary dividing and secluding the organic from the totally serene. Gonçalves ascends this conceptual wall. These tracks pertain to the fallen and sullied world despite their elegance.
"Instrumental 1" consists of echoes and reverberations of diaphanous sounds. In this sonic cave, ephemeral synth arpeggios realize their purpose and fate simultaneously. Becoming and decaying form one cohesive notion. The ancestors and descendants of these transient sounds all coalesce to transcend their momentary existence. If "Instrumental 1", is some sort of sonic cave, "Instrumental 2"' is an underground body of water. Azure hues bounce and glide along boundaries. Sounds morph and transpose to assume the form of whatever framework they are cast on to. Delayed guitar interventions hang like stalactites impugning on the space. The track fades out like the flashlight of the unfortunate explorer who now faces being enveloped by a state of abject equanimity.
"Instrumental 4" represents a sharp volta within Instrumentals. Virulent and equally voluptuous sonic landscapes are replaced by emaciated ones. Discordant percussion rings throughout this void. Sounds lose their sense of free form chaos; now, sounds rise and fall to the rhythm of anxiety-induced finger tapping. Even melody itself is forlorn: melody appears in efflorescent flurries, but it eventually succumbs to the weight of its own dejection.
There is a Nietzschean adage which says that suffering is the pregnancy through which we must pass to be reborn into beauty. If Nietzsche is right, "Instrumental 6" is the empirical confirmation of this adage. After reaching their denouement, sounds raise their weary heads and eagerly undergo their regenesis. Great deluges of fervid notes appear once again: sounds cascade and swamp each other, all vying to be heard first. "Instrumental 7" continues this process of regenesis. Now fully fledged, sounds ascent towards their apotheosis. Sounds begin to transcend their physis; amorphous notes twinkle and gyrate around one another. We are touching upon the serene once again. Bellowing horns mark the conclusion of this process of ascension.
In "Instrumental 9", the tropes and foils established in the previous tracks become coextensive. Delicate and dainty piano leads traipse through the void to provide a path. Tentative sounds realize their vigor and vitality; the serene is captured in an imperfect and "all too human" way.
In Instrumentals, Gonçalves manages to capture the serene in such a way that it never appears artificial or saccharine. The serene becomes organic and totally human. If this paradox does not make you say 'Huh?', I don't know what else I can say. I think Hazrat Khan said it best: "[T]o bring the sublime into the mundane is the greatest challenge there is."
Comments and Feedback: