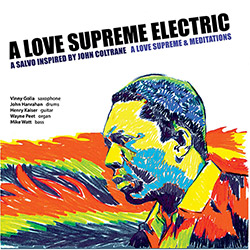 Miles Davis was supposed to record with Jimi Hendrix before the latter's death, a mouth-watering concept that unfortunately never materialized. But imagine what could have transpired if John Coltrane at the height of his powers had recorded not only with Hendrix but also Jimmy Smith. A Love Supreme Electric suggests how that dream session could have sounded.
To do so, drummer John Hanrahan, as a heart-felt salute to the Coltrane legacy, has put together two CDs of what could have been. Here Coltrane's most spiritual suites, "A Love Supreme" and "Meditations" are given an electronic reimaging. The saxophone role is filled by respected Los Angles free player Vinny Golia, Wayne Peet, who also engineered the discs, plays organ and Henry Kaiser, who works with many experimenters, most notably Wadada Leo Smith in the Yo Miles electric ensemble, is on guitar. The band is filled out by ex-Minutemen bassist Mike Watt, and adding extra percussion on "Meditations'" introduction, Bob Moses, whose jazz fusion advances range from the 1960s.
With Peets' expanding tremolo pulses, Watt's fluid and funky string pops and Hanrahan's settled shuffles and backbeat the familiar material takes on a Rock/R&B orientation. But the arrangements never default to powerful intensity for their own sakes. In fact the "Love" section of "Meditations" featuring the three comes across as a relaxed swinger. Moving among tenor, soprano and baritone saxophones and using each in a distinct manner, Golia inhabits the Trane role, but without abandoning his own identity. While projecting his interpretation of the two suite's heads, he adds fragmented split tones and molten glossolalia as he chews through the themes and multiple variations. Relating to a near-groove backdrop of cymbal clanks and organ swells playing baritone on "Pursuance" Golia's reed screams move out of church to the roadhouse. But playing the smaller saxophones elsewhere his near-vocalized reed bites and exaggerated renal pressure emphasize the strength of the material, as well as its nuances.
Often in double counterpart with the saxophonist, Kaiser's fluid fingering and amp distortions decorate and advance the program. He uses buzzing string fluctuations and spidery single-string pressure to carve out a part in what was composed as acoustic music. In the same way that Kaiser's snarling riffs or echoing flanges don't dominate the program, his rococo tone sluices or barbed comping steadies the performances alongside Golia's reed stuttering theme interpretation. The program is concluded as the band reprises "Acknowledgement", which begins CD1, featuring similar tenor saxophone flutters and organ swells plus metallic guitar adornments. The "A Love Supreme" vocal chant and rugged gong reverberation also heard confirms respect for the root material and accentuate how it has been intelligently reinterpreted.
Comments and Feedback: