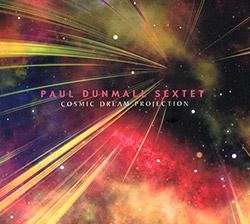 New Orleans and West Coast jazz exist so why not Birmingham (UK) jazz? Veteran British saxophonist/flutist Paul Dunmall and his associates make a good case for adopting the moniker with their performance here. Besides Dunmall, each of the players has an association with that city in the West Midlands. Besides his other gigs, trumpeter Percy Pursglove has since 2005 taught at the Birmingham Conservatoire (BC). Meanwhile trombonist Richard Foote, drummer Jim Bashford, guitarist Steven Saunders and bassist James Owston are all Birmingham based with most having attended the BC.
Something is obviously done right in the city, for the others adapt strategies to handily interpret the saxophonist's six compositions. Craftily arranged, the band's mixture of strings, percussion and horns echo larger group textures, yet it's suitably flexible in dealing with tunes that echo spiritual jazz, harmonize big band-like vamps with logical tone experimentation and bedrock blues. The last skill is notable, since on "Percy Goes to Hamburg", a stop-time feature, the sextet hits a John Lee Hooker-style groove featuring string choking and echoes from Saunders, tongue slaps and expanded multiphonics from Dunmall and Bashford's concentrated backbeat. Meanwhile the preceding "Moon and Venus" clips along like a combination Dixieland march and dodecaphonic musicale as tailgate trombone smears brush up against vibrating spetrofluctuation and flutter tonguing from the saxophonist that is kept in check by straight-ahead double bass strokes and echoing guitar twangs. Other tracks contain hints of tabla-sitar emulation or Africanized percussion splashes as well as unabashed swing, with the sextet members negotiating the changes without cleavage.
Space remains for individual showpieces, with Pursglove for one making full use of his options. Usually shadowed by one or another of the rhythm players he ranges through capillary slurs, bitten-off notes and brassy slurs. Yet he's also able to add melodic motifs to help moderate some of the narratives into easy going cadences and conclusions. Label-based jazz history books don't have to be rewritten yet. But the Dunmall Sextet certainly confirms the sophisticated professionalism of Birmingham jazz musicians.
Comments and Feedback: