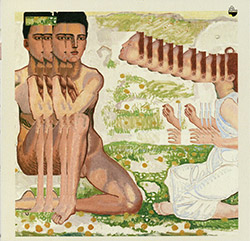 As a child, I took comfort in field trips to a local planetarium. Programs about constellations and supernovas made an impression, but it was a presentation on Aztec and Mayan civilization that made me understand the impact of interactive media. As the narration got closer to highlighting the culture's achievements, lights grew and revealed a panoramic 360º slide of an empire of stone temples and ornate public offices. The hairs on the back of my neck stood up while my eyes witnessed something my imagination previously couldn't provide. Well, with Temporary Places, I can think of no better exhibit — and none with a moving armchair and snacks, which is how you often feel when head down in these tracks — where museum, zoo, aquarium, church, meditation, and cool music inhabit the same space.
From minute one, polymath Nicolas Snyder's combination of locations visited, the manipulation of these in the studio and an aesthetic blueprint steeped in themes of relationships (travel, memories, people) and different types of isolation is an airtight, self-contained ("organic" is a word some use) collage. He stacks this universe with a collection of sources that stretch across distant terrains, juxtaposed times of day and seasons, sometimes made ambiguous and further tug on reality in the scheme of our physics with ample panning and home-spun production decisions. These are scenes of woozy delight and murky moods choreographed by someone who can paste together recordings taken on a remote East Asian hillside and seamlessly pair them with another captured at a subterranean Sunday service 3000 miles away. But Snyder is also a composer, and it's evident from his ensemble that he spends a good deal of time poring over his own sound design.
"CLAYhands" takes shape as a (first-person view) physical documentation of easing out of a lake to a beach where a faint, in-the-style-of-Christian-hymns choir can be heard on the horizon. The next seven minutes take us to the instigation of the singing, perhaps signs us up for a cult out in the woods, baptizes us all in holy light, carries us (strapped down?) on a chair, and then raises us to the beyond. In other words, Snyder's inner and outer contact mics capture/reproduce the essence and disparate emotional content of a dream, coma, sleep paralysis and other out of body dealings. Without pause, "RiceMill Intersection" floats us back near a rickety wooden pier whose groans and creaks join in loose, soothing rhythmic designs (think drinking bird, or those Japanese bamboo fountains that recreate the same fill/clack/thump/pour/repeat). Part of the aforementioned tug at reality is due to an illusion of authenticity spread to even the nooks of a manufactured environment — whose construction may include a park in Vietnam and boats and buoys knocking together. Snyder contributes a variety of unusual percussion, rocking chair, "rustling honeysuckle branches", "dismantled organ flute", etc. while also pulling the strings on whole thing; the thunder we hear later on, for example, is richer than normal, and rain doesn't typically include finger drumming.
"Breeze Holves Hemi" features chopped and stretched out bell samples that ease into a sputtering groove of hissy hi-hat and glitch detritus only to be silenced by an enveloping, bass-heavier horn that lingers and stretches into a long call to action. This toy piano-like naïve metallic clanking, whose sound is sculpted into various permutations (i.e. no attack, no release, no sustain), first felt like a misstep; introducing this persistent outburst over the top of wherever it is we find ourselves, sonically, broke the spell and distracted this listener's ears away from the previous ten minutes of a sprouting and evolving landscape.
But during these early sessions, I was relaxing outside at twilight with vocal mosquitoes, large fox squirrels, dogs sniffing and digging and chasing fox squirrels, and audible cross-fades of human activity inside and out the four corners of an expanding heterotopia. The aforementioned first works of Temporary Places can not only camouflage but often augment the overall setting and almost...perform along (in the way that films paired with unrelated sound often sync). And with headphones, the experience is unique. It isn't unusual to have several situations where music with a wide dynamic range and myriad nuances is not possible (esp. in the car), but, evidently, there are various strata at play to suit distinct situations. Neat.
It should be noted that Snyder's turning point while working on the album came from conversations with his father, who is currently incarcerated, and a family member recently paralyzed from a fall. As the title suggests, this record is intended to be an amiable companion wherever we're erecting a table, chair and vase of tulips to feel engaged to spite our insecurity and helpless feeling of "home" not seeming as secure as we would like. Ultimately a very comforting travelogue and guide book, Temporary Places is recommended while engaged in, as Camus' handbook The Plague advises, "...the never ending fight against terror and its relentless onslaughts...while unable to be saints but refusing to bow down to pestilences, (they) strive their utmost to be healers...to state quite simply what we learn in times of pestilence: that there are more things to admire in men than to despise."
Comments and Feedback: