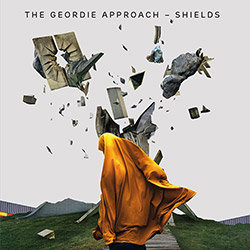 The Geordie Approach is sax + electronics, drums, guitar + electronics, provided by Petter Frost Fadnes, Ståle Birkeland and Chris Sharkey, respectively; but think about how many ways that could go, especially around these Squiddy parts. The three do use that ensemble, but there is something else making the final product so spectacular: The engineering (and mastering, and the "natural resonance" of Chapel FM in Leeds), whose contribution isn't a simple addition of low-end or compression on the Juno 6. It's crucial clarity required for ingesting this synthesized — yet organic, not digitally blinding — high definition amusement park meets Mines of Moria.
(It sure is goofy and snobbish to start an art review with a full paragraph about the house where the piece is hung, so to speak, rather than the work or components making up the thing, but that's the type of "um, wow!" impact this Timbaland sheen inspires near two minutes into "North" when a floor tom hit lands like a dump truck. Thirty seconds later, something akin to a demolition blast splits the ceiling and ricochets as a depth charge. Yes.*)
To call Shields a journey (split into two half-hour installments) is an understatement, and it admittedly requires a long night drive or a summer of home projects with it as the soundtrack to justly absorb the sound bath-like elements and gradual shape-shifting atmosphere. You will often feel pressed against the window of an aquarium watching a bonkers-looking ecosystem work in harmony; close your eyes, and overactive minds raised on television will think of motor-less craft humming over gases and terrain of various supernatural colors. Or it might remind you of the time you were fortunate enough to wander star-eyed amidst the shops on shops in the cobble-stone maze of downtown (insert European city here).
At times, Fadnes & sax capture the reverent spookiness that John Butcher's work with (cave) acoustics can summon; that comes to a halt when Fadnes tosses in a pseudo-trombone and further tweaks it into an Oberheim Matrix brass pad. One section mutates from a spritely hoe-down vamp of snare, brushes and a mountain of sound into that same threesome plus drum machine set on "Acid House". There are long passages of the aforementioned futuristic drum kit where Birkeland switches between "Moby Dick", the "tuning up" improvisers do when sizing each other up at the beginning of a session, and the type of jazz tethered to a tempo, but each arm is doing what it can to find ways to swing (or topple) the beat. And of course there is a careful choreography of amplification and manipulation to make his work here otherworldly. The edges of any occasional straight-forward beat are frayed and filtered, like messing with someone's shadow.
I may have heard a single three-note arpeggio and a couple positive matches for string plucks, but an implied vision (in my head) of Sharkey in concert involves welding and lightning, the Hendrix-hunched-over-burning-guitar pose, screw drivers, and squinting as he reads what he's toggling and patching while juggling a piece of wood around his neck. Regardless, he has to be somewhere in the cloud brewing at the finale. A recurring motif of staccato wooden strikes, taps, pokes, and smacks briefly appears and chokes as this fog swells around, pulling Fadnes' looping horn parts with it. The wind down of the last moments eschew brute force in favor with a wavering, almost tonally grounded drone / melody that soothes a dying storm of saxophone growls. One last jump in the form of what sounds as someone taking the brunt of a falling harp, and we're crawling away dehydrated.
At their core, The Geordie Approach is equal parts Art Ensemble of Chicago, Gruppo di Improvvisazione Nuova Consonanza and other crews who keep form and composition as a guide when improvising (aka Instant Composition). There are numerous other touch stones and references to other musical universes (and even a cheeky riff on the Bolero theme) in Shields, but one would be cautious to accuse the trio Approach of anything but homage or happenstance (how many guitar songs end up in E major?) when pointing out similarities with Kosmische greats, or the band's penchant for focused twelve-minute development tornadoes ala specific Canadian collectives linked with "Post Rock". Music is a language, it just happens that The Geordie Approach is fluent in at least ten.
*I'm newish to the Discus world, and I understand this production value is common in those waters. Taking note.
** People who enjoy Gnod, those who wish they could hear AMM played through titanic subwoofers, anyone with a penchant for gloom and doom metal, Guru Guru fans, probably Sun Ra fans because they're cool with anything "out there", etc. can find any or all those things to some degree with this group's esthetic(s).
Comments and Feedback: