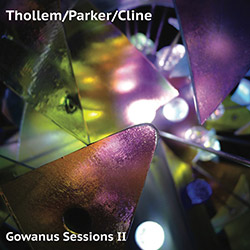 Guitarist Nels Cline is a perplexing musician to contemplate, in the best sense of the term, which comes to us from the Latin words plexus and perplexus meaning "interwoven" and "entangled," respectively. The consequent sense of bewilderment is also applicable, as Cline is hard to pigeonhole. His lines often involve layering and multi-timbral kinds of qualities that he manipulates so masterfully. Cline is joined by the equally perplexing bassist William Parker and Thollem McDonas on piano on this release, which features a 38-minute diptych of tunes entitled "Life in the World" and "World in a Life."
The album title comes from the venue where the music was recorded, the Gowanus Arts Building in Brooklyn, New York, and the session evidently allowed for a free rendering of the entanglements of the creative imaginations of these players in this session that gives listeners a couple of hypnotic, paradoxically understated and intense tracks.
While entanglements are not usually desirable and attractive, the strands laid out for entanglement here make for an experience of enthralling sonic shapes. Cline's effect-drenched playing is nicely contrasted with the straight acoustic piano lines and chords drawn from the vast traditional palette of the instrument, from crystalline Bach-inian lines, to Schuman-esque arpeggios, to Cecil Taylor hurricane-like flurry of notes. There are even some harmonically ambiguous and colorful impressionistic passages and an Ellingtonian sweetness in the voicings at times. Bassist William Parker, for his part, contributes his sure-footed rhythmic sense and timbral richness to the mix, as well as threads of scrapes and bowed passages that stoke the collective composition and help the cohesion of musical ideas happen.
The titles of the two pieces suggest a mirror-image effect. The proportions of the pieces are fairly large, at 18 minutes each, and the strands in the tapestry of sounds that are woven into the fabric of the spontaneous compositions are clearly echoed in each of the inter-referential pieces, the result of complex yet fleet musical thinking in the meeting of these very different, yet highly attuned creative collaborators.
Comments and Feedback: