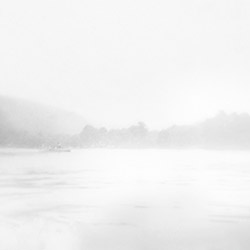 Though generally associated with the world of post-AMM improvisation, having recorded with the likes of Keith Rowe, Jérôme Noetinger, Ferran Fages and large portions of the Australian improv community, Will Guthrie has always cut a noticeably different figure, a drummer of extreme precision as well as sheer strength and fortitude. This came to the fore in recent years with his participation, with Jean-Luc Guionnet and Clayton Thomas, in Ames Room where his combination of intricate, often pounding patterns both shifted on a dime and held rock steady to a degree of intensity and duration that was hard to believe.
With the solo recording, Nist-Nah, Guthrie takes off on a new tack, one directly inspired by Balinese and Javanese gamelan music, using an assortment of instruments from the region in addition to his drum kit. Crucially, Guthrie doesn't simply try to imitate a culture of which he's not a part, but uses ideas found therein to generate his own music, one heavily indebted to the tradition but creating its own unique space. The brief introductory title track gives a hint: precisely drummed, intricate patterns varying in rhythm and pitch accompanied by a cloud of softly struck metallophones. Guthrie varies the ambiance with each piece. "Catlike" takes a rapid, steady rhythm and gradually embeds it in soft swirls of bell-tones and what sounds like strong breaths (but which might well be a form of maraca-like percussion). The mist imperceptibly overwhelms the first rhythm, creating a lush garden of percolating, extremely lovely sounds. Having lulled the listener into a pleasant kind of soporific state, Guthrie suddenly turns more sonically aggressive on "Lit 1+2", with a short explosion of metals, before subsiding into gentler, though still bumpy terrain. While the first five tracks are Guthrie compositions, the final one, "Kebogiro Glendeng", is a lengthy arrangement of a traditional Javanese song. Its utterly infectious melody is iterated, embellished and expanded upon throughout the track's 17 minutes, creating overlapping rhythms, layers of buzzing and other touches, slowly diffusing the music into a fine, complex haze.
A brilliant and unusual recording, highly recommended for listeners familiar with either Guthrie's prior work or Southeast Asian traditional music.
Comments and Feedback: