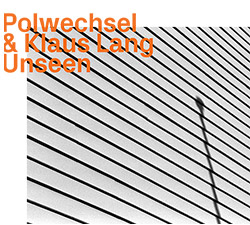 Polwechsel's first recording was issued in 1995; this is only their ninth in the ensuing twenty-five years, the third to feature a guest musician (Christoph Fennesz and John Tilbury being the other two). The two constants in the ensemble have been cellist Michael Moser and bassist/electronicist Werner Dafeldecker. 'Archives of the North' (hatOLOGY, 2006) was the first to include the percussionists Burkhard Beins and Martin Brandlmayr and the resultant quartet seems to have been stable since then. Though consisting of musicians associated with the improvising community, the pieces on recordings were often compositions and sometimes suffered from a certain dryness, even astringency, which the arrival of Beins and Brandlmayr, excellent musicians both, helped mitigate. With Unseen, they made the inspired decision to collaborate with the composer/organist Klaus Lang and the results are very special.
This release contains three compositions, one each by Lang, Moser and Dafeldecker. Lang's 'Easter Wings' begins with a cloud of airy organ sounds mixed with light metallic percussion and high arco strings, indeed conjuring up an image of a mass of small birds careering in the upper reaches of a cathedral. Low pedal tones enter, effectively grounding the work. The "birds" fly off, replaced by wonderful layers, both lush and whistly, strings intermeshed with bowed metal, revealing complex and fantastic tonalities, eventually evolving into a kind of dense, seesawing "melody". The initial phase is returned to with some adjustments, more diffracted, airier. A great, expansive and enveloping work.
'No sai-cora-m fui endormitz' ('I don't know how I fell asleep' in Catalan) by Moser, offsets small modules of bowed string activity, nervous little knots, against longer responses from the organ (perhaps with some scraped percussion in there as well?). The structure reminds me a little of late 60s-early 70s Michael Mantler, the frenetic balanced by the coolly impassive, as in his '13'. This piece's middle section, in fact, recalls that particular tonality quite a bit, the complex, multilayered tones drawn out, their depths plumbed. Again, there's a return to the initial "theme", this time with clear cymbal accents, the organ otherwise occupied with subtle, breathy exhalations. Dafeldecker's 'Redeem' commences with a haze of deep bass growls and murky organ chords, occasionally shot through with a blast of...raspy percussion? A severely maltreated organ stop? Hard to tell (which I appreciate) but it sounds great, like some ghostly entity scouring the room. Amongst the billowy clouds, the percussion, here mostly struck wood, stands out more than elsewhere on the album; one picks up Brandlmayr's extraordinary precision, even as the patterns he creates are abstract and arhythmic. The organ takes on the aspects of an entire string section — pretty astounding — as the tension and volume build. The work's second half switches to an interplay of long-held chords from the organ with bowed cymbals. By the end, Polwechsel and Lang have generated a steamy mass, with all manner of creatures flitting about — another fine composition.
An excellent venture all around, highly recommended.
Comments and Feedback: