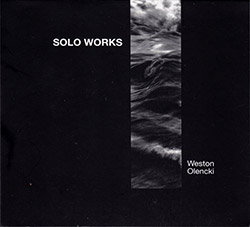 Solo Works is a reminder why riot barriers are needed between the brass section and everyone else. This class of instruments was designed to make thunder. They can't help it, and will do so regardless of ppp indicated on a page — and the maestro here is telling us to "Listen loud". With that directive, Weston Olencki (Wet Ink Ensemble, Ensemble Pamplemousse) uses physics and patience on "brass" (his word) and some odd-shaped mutes to craft head-scratching * texture-heavy etudes for the highly specialized.
Though a master "brass + pedals" performer, Olencki is all-acoustic here. He writes that the macro connection is "(a) focused experience of sound and time, and its intense, dense and very physical reality — how it shapes us, moves us, recalibrates our bodies and minds..." Because of the artists' reinvention and ability to craft self-contained and self-mythologizing music where development/variation/movement isn't obvious, one is reminded of "non-representational" (that word is still positive in my book) snapshots in a visual sense
Opener "seven stones (parallax)" immediately spawns suspicion at the liner notes' mention that no overdubs or processing were responsible for these pieces. Like powering on a machine, where there was nothing, now is Olencki's block of ambiguous construction slapping your mind awake. His approach with this collage of various sized wooden bird calls and oscillating fan (made by euphonium) is free of meter and obvious time markers; on and off, stopping to regroup, not so much a form as beginning and ending.
On "for trumpet", Olencki plucks a couple gestures out of his repertoire to illustrate the power of a nudge to create interest inside a "drone". After an initial shock with what one associates with a leaky balloon, he adjusts his mouth to make a less abrasive yet overdriven scream akin to a Prurient the author attended in 2005. The pressure pushes hard enough to vibrate the pipes which in turn affect the instrument's mute to release fresh (sonic) colors; I had argued that I would rather experience Solo Works live, but the mystery of what's doing what is an intended-or-not treat.
The twenty-minute "Capacity" is Olencki engaged in a mission to slow time with only a trombone and air. Really bright notes and exaggerated bell cupping fade into the aural analog of "crawl". The sound ranges from creaky and wooden to engine-like to someone dragging stone across stone (or pushing a Boulder up a hill). There are long passages throughout "Capacity" where Olencki's low-frequency meandering briefly finds direction but is stunted every time it stands up, so to speak. The feeling is that of trying to set up an enormous tent that refuses to stay erect. If you haven't camped or been responsible your own protective dwelling, it's a depressing race against time while your attempts are repeatedly thwarted by a misplaced pole or tarp which repeatedly causes a lugubrious collapse. I think that can be chalked up to psychoacoustics, or the composer's harmonic content is simply messing with my chakra.
Finale "Bisected Mess" (for euphonium), is a one-man duo of panned-apart whistles and steady, tense inhale/exhale. Upon first listen, Whistles is (stay with me) the immediate dominant voice of the riff. It impersonates a lightly squeaking snore — the kind you find cute when first dating — or someone agitatedly trying to change the pitch of a plastic straw; each rise in pitch had me like a hypnotist's swirling ring;. Several minutes in, I suddenly had to gasp for air. The shift is now to Breaths that, though originally apathetic, are causing somatic tension in both performer and audience (as in, my chest felt constructed and it took me a few times to get over that every time I sat down the listen). At exactly five minutes, forty seconds, a hard stop and twenty-seven seconds of silence should be comforting, but it's more a creaking door slowly opening before the monster jumps out again. I'm being silly, but I did experience an actual jump scare and had to remember a breathing exercise.
To clarify the miscellaneous adjectives above, Olencki's work is fantastic and he has carved out his own corner in the pantheon of (useful, thoughtfully executed) extended techniques. The practice to get into character for Solo Works was two years of preparation, an incubation period warranted when part of an aesthetic is to drag the listener out of wherever and place them inside the bell. Many attempt these sorts of systems, but Olencki's results are memorable because of this invited voyeurism.
* Would I call these neutral? Sublime? Alien? What the hell is neutral music?
Comments and Feedback: