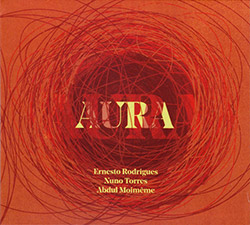 The Creative Sources label should be well known to anyone interested in "different music", with well over 600 titles in their catalogue. Label boss Ernesto Rodrigues appears on quite a few of them, and his modus is generally to work with quiet sounds and extended techniques, captured by close-miking and careful attention.
Here, abetted by alto saxophonist Nuno Torres and electric guitarist Abdul Moimeme, the game plan gets stretched a bit. The single half-hour piece begins with quiet tones and scrapes, in soft clusters connected by gritty ropes, like cotton balls hung from a diamond saw. Recognizable notes intermingle with inexplicable sounds in constant forward motion. Chattering and buzzing feature prominently. Somewhere around the thirteen-minute mark, things become decidedly more tonal, led by Torres' sax. The trio expands into the kind of quick fairly straight-ahead combining we might've heard during the heyday of British improv. There follows then an exhibition of chordal mixing dissolving into quieter, sparser ruminations studded with an occasional pop or crack or metallic whang. A folk fiddle tune slides by amid big electric clouds. A stringed storm front skirts the edges and handfuls of whistles extrude out of the center.
The artwork on the cover, what could be a messy pile of wire(s) with a dark center, fits the sound rather well methinks.
Comments and Feedback: