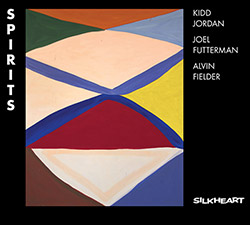 All good things must come to an end and so they did in 2018 when drummer Alvin Fielder died at 83. A founding member of Chicago's ACCM, he relocated back to his native Mississippi in 1969 and continued playing and agitating for advanced jazz in the South from that point on. In 1975 he began collaborating with New Orleans tenor saxophonist Kidd Jordan, another rare experimental player from the epicenter of traditional jazz, and in 1994, Virginia-based pianist Joel Futterman made the duo a trio. Although the three had years of interaction ahead of them, this 1997 studio date shows how well the partnership had already jelled.
Interestingly enough, while Jordan's command of reed-busting multiphonics and Futterman's skill in interpolating kinetic progressions into the arrangements are quickly highlighted, except for some jolting tom-tom patterns Fielder doesn't really assert himself until "Double Strike", the third and longest track and the subsequent "Short-Stop", its continuation. With rim taps and press rolls he accents the exposition created by the others, as they work their way up the scale. Prime demonstration of triple counterpoint, the drummer uses pronounced bass drum clunks to shift pressures as saxophone lines move from lowing drones to altissimo split tones, while the pianist splinters the time sense. Later both Jordan and Futterman spew out theme variation after variation. In the penultimate minutes Futterman's peeping Indian flute duet with the saxophonist's multiphonics mark an intense turn to the performance, which is further confirmed on ""Short-Stop", a mostly unaccompanied piano recital of contrasting dynamics, where key pressure leads to sound board echoes from the highest pitches.
A further unexpected dual between Futterman's strident soprano saxophone and Jordan's deeper and darker tenor saxophone characterizes the final "Start-Continue". But while that track reaches the zenith of reed screams, drumstick chops and wriggling pulsations from the piano, even as the narrative is jostled from every angle, an undercurrent of lyricism is also present. Slowed down with concentric and cumulative textures, the piece judders to an ending marked by a final boom from Fielder's drum. Sadly, this configuration can never convene again. Fortunately, it has left behind high-quality documents like this one.
Comments and Feedback: