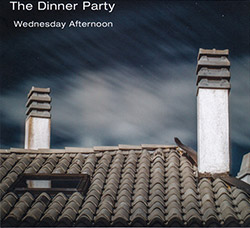 Should you be hungering for a nourishing snack of free music, but without indigestible harsh timbres, then you'd be wise to make reservation at this dinner party. For while the trio is made up of three of the UK's most accomplished improvisers, on this Wednesday Afternoon, they serve up a palatable meal of understated improvisation. However the meticulously crafted blends don't mask each of the players' familiarity with more flamboyant fare, or skill at playing at a more energetic pace. Alto saxophonist Adrian Northover for instance is a member of the London Improvisers Orchestra, the Remote Viewers and other bands. Pianist Vladimir Miller has worked with percussionists such as Vladimir Tarasov and Ken Hyder, while Pierpaolo Martino has played both electric and acoustic bass with the likes of drummer Francesco Cusa and guitarist Marc Ducret.
The electric bass isn't at this feast, and Martino's acoustic rhythmic strategy is more often felt than heard. On a track like "Between the Acts" for example, it seems as if he's fragmenting string tones alongside chromatic keyboard extensions from Miller while blending with calming reed vibrations. This is just one of the tracks dedicated to relaxed and almost smooth patterning, as story telling is emphasized over lengthy technical exercises. In another instance "Fellini" speeds up after bass slaps and piano sweeps have created a round robin of theme variations, but it never loses touch with the original theme. Other tracks proceed with gentle swing that could be termed friendly, buoyant or in the case of the title tune almost hummable. But enough snarly saxophone runs and stopped piano key echoes remain to confirm the performances' inner strength. Only with "Silent Friend", the longest and final track, do the trio members step up their interaction with frequent piano key pressure, powerful bass string stops and strained and squealing reed timbres. As Miller's thumps from the lowest part of the keyboard vibrate speedily in counterpoint with Northover's flutter tonguing swirls and Martino's bass string strums, this confection of sophisticatedly altered tones confirms the trio members' improvisational smarts and casts the preceding musical dinner courses in bolder relief.
Like any well-prepared meal Wednesday Afternoon starts with delicious and calming sonic appetizers, provides hearty sustenance with main courses that stretch the musical parameters without upsetting the taste buds, and end up with the equivalent of bracing coffee and dessert; a zesty fare.
Comments and Feedback: