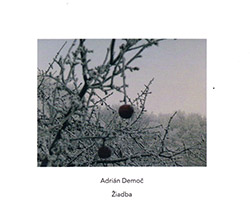 Heard blindfold in one of those listening tests beloved of some publications, the music on Žiadba has the potential to leave some hapless victim with egg on their face. Firstly, there is the fact that the Slovakia-born composer Adrián Demoč is relatively unknown, with his only recordings prior to this album comprising two pieces totalling under seventeen minutes, issued as digital files by either/OAR in 2010. Given that, it is commendable that Another Timbre chose to release Demoč's compositions in the wake of the label's blockbusting Feldman box set. Furthermore, six of this album's seven tracks were performed by esteemed members of Apartment House, recorded in June 2019 at St. Paul's Hall, University of Huddersfield, and at Dethick Church, Derbyshire; the seventh was recorded live in August 2015 at Ostrava Conservatory, Czech Republic, during the Ostrava Days festival, performed by Ostravská Banda/fama Q. Throughout, the sound quality is first rate, showcasing the music perfectly.
Another factor which might stump a blindfold test victim is that some of Demoč's compositions do not immediately sound like twenty-first-century pieces, although he has been composing since 2002. Throughout, conventional acoustic instruments are used, with no hint of electronics, amplification or treatments. And there are no extended periods of silence or extremely quiet sound. The album begins well with quartet — violin, cello, clarinet and piano — renditions of "Kvarteto 1" and "Kvarteto 2", composed in 2015-17; the first is a briskly-paced, melodic piece, the complexities of which put Mira Benjamin, Anton Lukoszevieze, Heather Roche and Philip Thomas through their paces for its five minutes; the second is slightly longer, maybe because it is taken at a more stately pace, but just as pleasingly melodic. Just as stately is the fourteen-and-a-half-minute trio "A Luca Marenzio", from 2018, in which cello and piano are joined by Chloë Abbott's trumpet; in contrast to the opening pair, it has a repetitive structure which is simply mesmeric.
The only non-Apartment House track, "Septett" (2011/15) lives up to its title by featuring two violins, two violas, two cellos and a double bass; far less structured than the preceding tracks, it is short on melody but strong on atmosphere and texture, as string sounds wax and wane, ebb and flow to create a highly listenable soundscape in which it is nigh on impossible to pin down who does what. Based on the sounds, it would be no surprise to discover that extensive improvisation was involved, but that does seem unlikely in the context of the album. As a track, it is noticeably different to those discussed above. Oddly, given that they were composed years apart, much the same can be said of the album's longest (fifteen-and-a-half-minutes) piece, "Modré Kvety" (2018), performed by an Apartment House trio of cello, clarinet and piano. Specifically, it is strong on atmosphere, very mellow and listenable.
The album closes with "Žiadba 1" and "Žiadba 2" played solo by violinist Benjamin; the first, and shorter of the two, re-establishes the chamber atmosphere of the opening track, before its eleven-minute companion does a U-turn and deftly shifts the landscape nearer to those of "Septett" and "Modré Kvety". Taken as a whole, this album is an excellent advertisement for the rich variety of Demoč's compositions and suggests he has many fruitful and fascinating years ahead of him. Recommended.
Comments and Feedback: